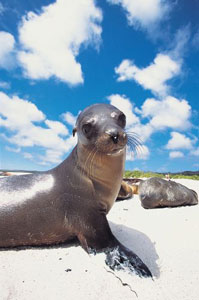 New to our lineup of Galapagos boat offerings, the Santa Cruz II features large cabins spread over 3 decks. During your sailing you'll enjoy the perfect infrastructure for an integrated Galapagos nature cruise.
Each cabin has a large picture window, ipod/MP3 docking station, security safe and large modern bathrooms.  Designated family cabins and 36 connecting cabins insure an excellent family experience.  As and added plus, there are also VERY well priced single cabins on board.
Santa Cruz II's design includes wide hallways and broad stairwells, indoor and outdoor dining areas, a fitness room and Jacuzzis. An elegant bar and lounge and well-stocked library add to its sophisticated simplicity. Luxury ratios of crew and guides to passengers guarantee quality individual attention.
Extra such as glass bottom boat rides, sea kayak explorations and plenty of swimming & snorkeling sites create a well-rounded itinerary for an unforgettable experience.