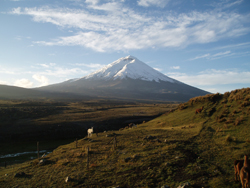 Enjoy the thrills of adventure activities while exploring cloud forest, rainforest and the peaks of the famous Andes mountain rage. This trip works particularly well for families & friends that share a sense of adventure and discovery.
Start with a hike around the famous Cotopaxi Volcano—the world's highest active volcano, and continue to the cloud forests near Patate and Banos for a fun mountain bike ride on unspoiled roads. Then descend into the Amazon rainforest for 2 days of spectacular river rafting.
Finish with a soak in the Papallacata Hot Springs—a perfect ending to a perfect trip!
Departures
Price:
$1875 p/p
$240 single supp
Travel Style:
recommended custom itinerary