Santa Cruz II | Boat Info
Bed Types:
Twins and double lower beds
Most twins convert to double bed
43 Explorer Cabins on 3 decks
2 Explorer Family Cabins (triples)
2 Voyager Cabins/dedicated singles
3 Darwin Suites
Baths:
Private with hot & cold fresh water
Naturalists:
8 including Expedition Leader
Special Features:
Snorkeling Equipment, Wetsuit rental, Jacuzzi Glass Bottom Boat, Stargazing Program, Fitness room Reading Room & Natural History Library, Resident physician 36 connecting cabins; 7 single cabins with only 15% surcharge
Additional Boat Details:
Scroll down for photos of the Santa Cruz II's cabins, interior, sun deck and deck-plan.
The cabins on the Santa Cruz II were designed with a Swedish touch and the most modern cruise styles. They offer a tasteful and comfortable area where visitors can unwind and appreciate the views from the sizeable windows, which illuminate the rooms. There are 43 Explorer Cabins (163.2 sq ft / 15.2 m2): on the Horizon (23), Expedition (17) and Panorama Decks (3).
On the Horizon Deck you will also find: 
2 Explorer Family Cabins(191.9 sq ft / 17.8m2) with triple occupancy option
2 Voyager Cabins(127.0 sqft / 11.8m2)--single cabins
On the Panorama Deck, the Santa Cruz has three Darwin Suites that measure 30 m2 or 325 sq. ft. Each has double picture windows, sumptuous comfort and luxurious facilities for more discerning guests. These may also be interconnected with an Explorer Cabin, to provide an additional 15 m2 or 163 sq. ft. of space.
Santa Cruz II- Explorer Cabin/Twin. Horizon, Expedition & Panorama decks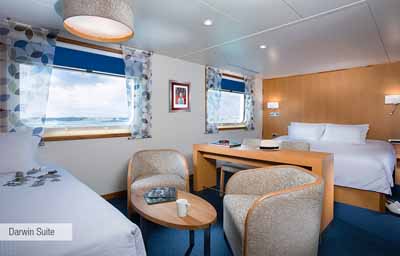 Santa Cruz II-  Darwin Suite.  Panorama Deck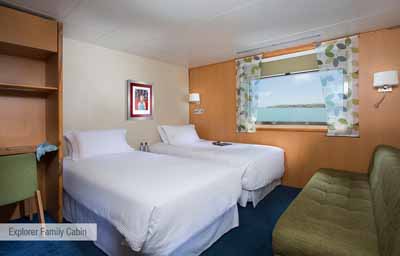 Santa Cruz II-  Explorer Cabin/Family (triple)  Horizon Deck  
Santa Cruz II-  Voyager/Single Cabin. Horizon Deck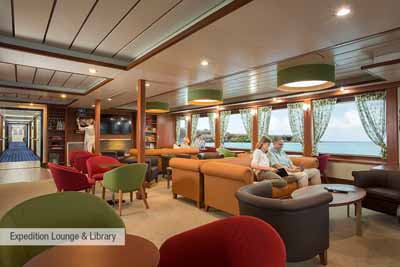 Santa Cruz II-Library & Expedition Lounge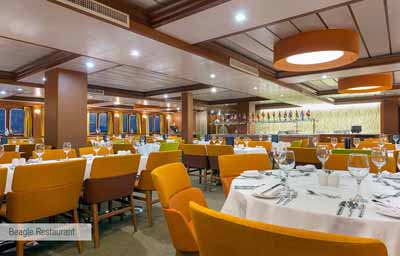 Santa Cruz II-Dining Room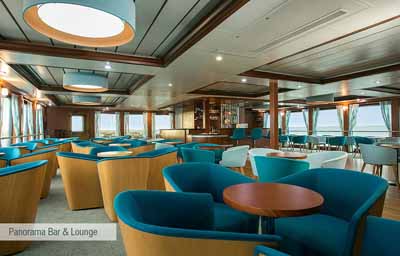 Santa Cruz-Lounge & Bar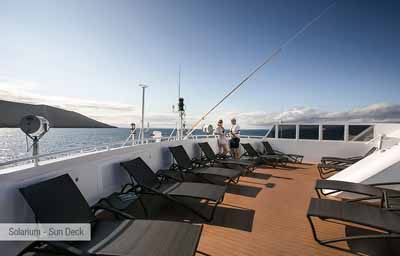 Santa Cruz II-Deck
For more photos and details, visit M/V Santa Cruz.
Additional Boat Information