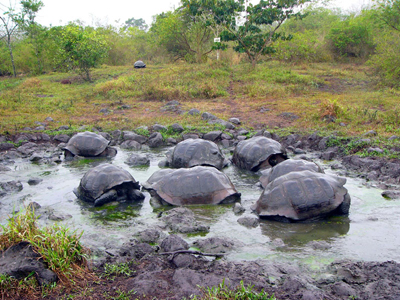 The Galápagos Islands, a small, but very special archipelago located in the Pacific Ocean, straddle the equator just 600 miles off the coast of Ecuador. They were declared a National Park in 1959, with strict regulations aimed at protecting the flora and fauna.

The Galápagos Islands were among the first group of sites added to the UNESCO World Heritage List in 1978. But in 2007, threats from increasing tourism, over-fishing, and encroaching invasive species put the Galápagos on the List of World Heritage in Danger places. Due to a strengthening of conservation measures, the Galápagos Islands were removed from the endangered list in 2010. These new itinerary restrictions are a positive effort to further conserve the island's resources.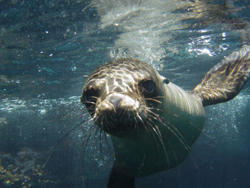 The park can be visited by either live-aboard boats, or land-based eco-style hotels. Previously, each boat maintained a carefully regulated itinerary of 8 days/7 nights--sometimes divided into 3 night and 4 night segments--visiting the same sites once per week.

With the intention of lessening the visitor loads on each site, new restrictions will take effect February 1, 2012. The new rules will impose a 15 day itinerary on each vessel. This means that each boat will go from a once-per-week visit to any site on their approved itinerary, to once every 15 days. During that period the boat cannot visit the same site in the archipelago twice, the exception being the Charles Darwin Research Station on Santa Cruz Island.

Boat operators can divide these itineraries into a maximum of four segments. Some boats have opted for two different 8 day itineraries, others will offer a combination of two different 6 day programs with a 5 day segment, some will offer 4 day segments with longer options, etc. As you can see, the combinations and variety are endless.


Benefits of these new regulations:
Visitors who want a thorough exploration of the islands can now spend 10, 12 or 15 days sailing the islands, guaranteed they will be visiting a different site every day.
Pressure will be taken off the airport on Baltra Island, and distributed more evenly to the airport on San Cristobal
Reduction of visitor loads to each site
Equal access for boats to all sites
More even distribution of visitors through-out the Galapagos archipelago
Through more intelligently designed itineraries, the new regulations should reduce the fuel consumption of cruise vessels, and result in a reduced carbon footprint created by tourism in the archipelago.
Enhance the experience of Galapagos visitors, while protecting the fragile ecosystems of the islands.

Many boats implemented these changes voluntarily during 2011. Beginning February 1, 2012, ALL of our vessels will be following the new regulations.

Latin American Escapes fully supports the efforts of the Galapagos National Park in these changes, and looks forward to assisting our clients to match the perfect Galapagos adventure to their interests, vacation time and budget.