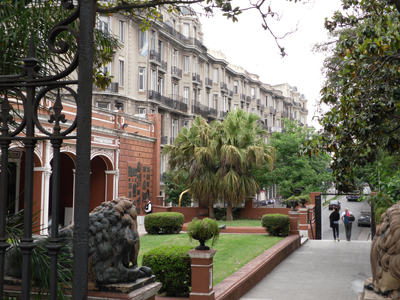 Buenos Aires is a city of diverse neighborhoods, trendy restaurants,
stunning architecture and centuries of culture. To enhance your visit,
we offer you these tips on our favorite tours, locales, and hotels.

Top Tours: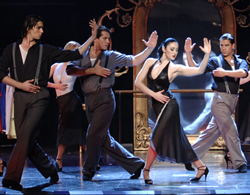 Argentine wines, cuisine and Tango:
El Querandi now offers the perfect combination of three of Argentina's top experiences—cuisine, wines and tango. Start your evening at a La Cava del Querandi restaurant tasting the top wines of Argentina while enjoying a special food and wine pairing menu. Then head next door to one of the premier historic tango venues to enjoy a presentation that traces the history of the unique music, dance and song of the Argentine tango.

Four Balconies of Buenos Aires:
Our exclusive tour visits four parks and plazas of the city to introduce visitors to the authentic Argentina. You'll learn about its history, its contrasts, its contradictions and the characteristic psychology of the "porteños", the inhabitants of Buenos Aires. Developed by one of our favorite guides, and university professor, this is one of the most informative tours of the city, and not to be missed!

Hideaways: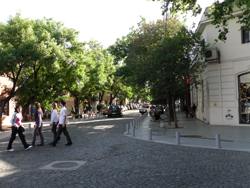 Palermo Viejo:
Be sure to explore this trendy, bold and bohemian neighborhood. Stroll tree-lined cobblestone streets enjoying boutiques, cafes, bookstores and a multitude of small restaurants and bars. Palermo Viejo gives you a small town feeling in the midst of the big city, located a short taxi or subway ride from the hubbub of the city center. There are several excellent boutique and typical style hotels for you to use as a base to explore and enjoy the neighborhood. We consider Palermo Viejo a great place to relax a few days before beginning your exploration of Argentina, or use it as the final component of your itinerary.

Tigre Delta:
While quite popular on the weekends, during the week you can have this relaxing and historical district all to yourself. Stroll walkways, or take a private boat to enjoy the views of beautiful riverside villas, Victorian docks, English gardens, and traditional rowing clubs. Recommended activities include a visit to the historic O'Campo Villa, sea kayaking through the delta, or a bike riding tour along the waterways.

Hotels: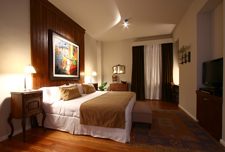 Legado Mitico
One of our favorites in the Palermo Viejo district. Designed for travelers who want to experience the authentic spirit of their chosen destination, this historic hotel will not disappoint! Large rooms (see photo), a rooftop jacuzzi and deck , a ground-lever patio, excellent service and prime location make for a memorable stay in this trendy Buenos Aires neighborhood.

Hotel Madero
Located in the Puerto Madero area of the city, and a short taxi ride from all major sites, the Hotel Madero is top choice for a luxury hotel in a quiet area. With-in easy walking distance you'll find many of the top restaurants of the city, as well as the trendy Faena Hotel and its sultry Rojo Tango—a classy burlesque twist to traditional tango. The Hotel Madero incorporates the style and sophistication of the Madero area with rich interior architecture and interior art. Well priced and inviting, you'll wish you could stay longer!
Have you spent time in Buenos Aires? Please share with us your favorite hotel, tour, night-spot. restaurant--or anything about the city you really enjoyed.