Antarctic Peninsula and the South Shetland Islands | Trip Notes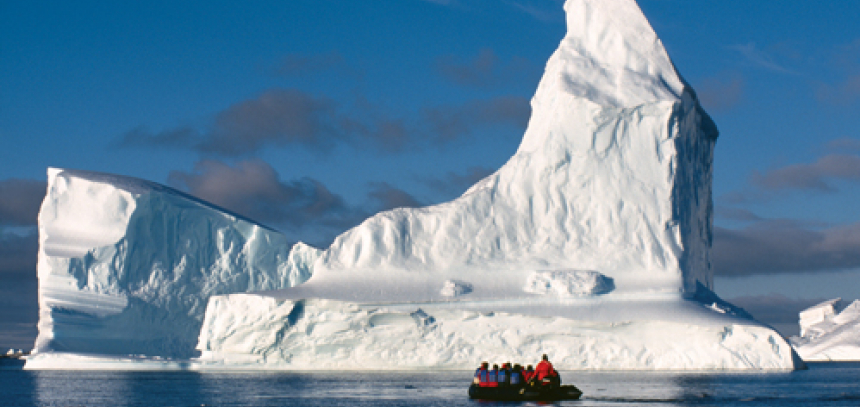 2013-14 Season/ Prices
Departure Dates
Quad
Triple
Twin w/
portholes
Twin w/
windows
Twin
Deluxe
Superior
Kayak
option
Camp
option
Scuba
Diving
Dec 20-31
$7900
$8800
$9600
$9950
$10,550
$11,700
$430
$170/nt
N/A
Single cabin occupancy: 1.7 x the double occupancy rate
Special Note regarding fuel prices:  If world fuel prices reach or exceed US Dollar 120 per Barrel Brent 90 days prior to departure Oceanwide Expeditions reserves the right to levy a fuel surcharge of EURO 18 (approximatey $25USD)  per passenger per night.
All voyages aboard 'Plancius' will operate subject to a minimum of 70 participants. 
Activity options for camping, and  kayaking  are priced as above, and also must be confirmed in advance. snowshoeing is also possible on this departure, and includes free use of snowshoes.
Follow these links for information on age and nationality; combating seasickness; dress code; gratuities; non-smoking policy; your physical condition.
Trip Notes:
Cabin details:  M/V "Plancius" accommodates 114 passengers in 53 passenger cabins with private toilet and shower in 4 quadruple porthole cabins, 2 triple porthole cabins, 9 twin porthole cabins, 26 twin cabins with window and 2 twin deluxe cabins, all (ca. 15 square meters) and 10 twin superior cabins (ca. 21 square meters).
All cabins offer lower berths (either two single beds or one queen-size bed), except for the 4 quadruple cabins (for 4 persons in 2x upper and lower beds), and 2 triple cabins (1 bunk bed plus 1 lower bed)
Included
•    Voyage aboard the designated vessel as indicated in the itinerary..
•    All meals throughout the voyage aboard the ship including snacks, coffee and tea.
•    Free use of rubber boots and snowshoes aboard 'Plancius'.
•    Pre-scheduled group transfer from the vessel to the airport in Ushuaia (directly after disembarkation).
•    All shore excursions and activities throughout the voyage by Zodiac.
•    Program of lectures by noted naturalists and leadership by experienced expedition staff.
•    All miscellaneous service taxes and port charges throughout the program.
•    Comprehensive pre-departure material.
Camping: On some Antarctic voyages we offer an exciting 'open air' camping option, which gives an intensive experience of the Antarctic wilderness. Special gear and field equipment will be provided: tents, wind and waterproof bivouac bags (lightweight alternative to a tent system). This shelter will protect you from the elements during the night in the open air of the Antarctic. Mattresses and polar sleeping bags provide comfort during the night. The maximum number of participants for this camping option is 30 participants per night. One expedition guide will conduct the activity ashore. Camping is always subject to weather, local site and environmental regulations. 1 night has to be booked prior to the trip; any extra nights (if those are possible) must be arranged onboard. Additional nights will be charged by the Hotel Manager. For more details please refer to the activity manual.
Sea Kayaking:  In general we plan to at least offer 4 kayaking days. Basic kayaking experience is required and physical fitness is essential. Parallel to all other activities we are planning on offering kayaking excursions during morning and / or afternoon landings. The final decision on those excursions will be met by the Expedition Leader. Oceanwide will provide kayaks and neoprene wet suits. Kayakers will bring their own personal gear. Kayaking is subject to weather and prevailing ice conditions. For more details please refer to the activity manual.
Age Range & Nationality
Passengers on a typical voyage range from their 30s to their 80s - with a majority usually from 45 - 65. Our expeditions attract independent-minded travellers from around the world. They are characterised by a strong interest in exploring remote regions. The camaraderie and spirit that develops aboard is an important part of the expedition experience. Many departures have several nationalities on board.
Combating sea sickness
Anticipate some rough water on the voyage. Should you be prone to motion or sea sickness, please consult your physician which medication is appropriate and its side effects.
To avert motion sickness, avoid alcohol, tobacco, excess liquids, and confined spaces. Most people feel better sitting on deck looking at the horizon or prone with eyes shut. Oddly, you will feel better with some food, such as crackers or dry toast in your stomach. Many people eat to avoid feeling sick. Remember, once you start to experience motion sickness, medications are of little help.
Dress code
In keeping with our expeditions atmosphere, dress on board is informal. Bring casual and comfortable clothing for all activities. Keep in mind that much of the spectacular scenery can be appreciated from deck, which can be slippery. Bring sturdy shoes with no-slip soles and make sure the parka is never far away in case of the call "Whales!" comes over the loudspeaker and you have to dash outside. Wear layers since it is comfortably warm aboard the ship - and often cold on deck.
Gratuities
The customary gratuity to the ship's service personnel is made as a blanket contribution at the end of the voyage which is divided among the crew. You will receive detailed guidelines aboard. Tipping is a very personal matter and the amount you wish to give is at your discretion. As a generally accepted guideline, we suggest US$8 to US$10 per person per day. It is better for the crew, if we can give them cash US Dollar.
Non-smoking policy
On board our vessels we have a non-smoking policy. It is prohibited to smoke inside the ship. You can smoke on deck but do not throw your cigarette filter overboard ! Do not smoke on the aft deck in the proximity of zodiacs, engines and fuel. Please respect the wishes of non-smokers.
Your physical condition
You must be in good general health and you should be able to walk several hours per day. The expedition is ship-based and physically not very demanding. Although we spend as much time as possible ashore, you are welcome to remain aboard the ship if you like. To join most excursions, you must be able to get up and down the steep gangway from the ship to the water level to board the Zodiacs. Staff will assist you in and out of the boats. This will become progressively easier with practice. Ashore it can be slippery and rocky. You are travelling in remote areas without access to sophisticated medical facilities, so you must not join this expedition if you have a life-threatening condition, or need daily medical treatment.
 
Departures
Price
Quad from $7900 pp
Twins from $9600 pp
Superior from
$11,700 pp