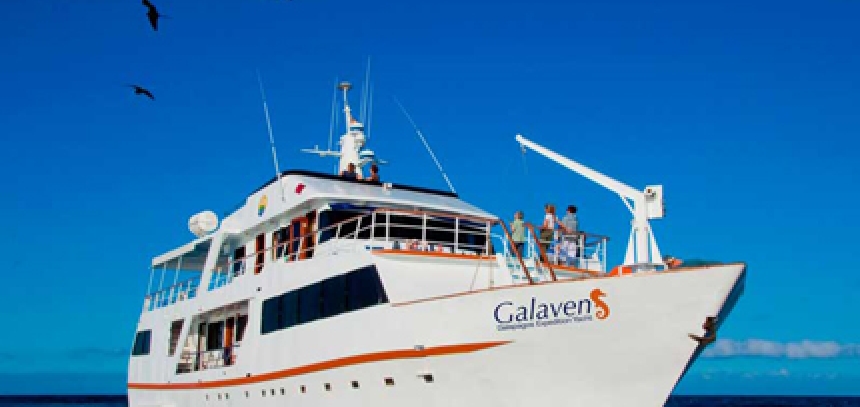 2018 Prices/
Per person
4d/3n
5d/4n
8d/7n
11d/10d
12d/11n
15d/14n
All cabins
$1945
$2745
$4045
OR
OR
OR
Discount for groups of 6+
10%
10%
10%
 
 
 
Xmas & New Year's supp
No surcharge
 
 
 
Children's Policy:  Children under 12 sharing the cabin with an adult receive a 20% discount except during Easter, Christmas and New Year's cruises
Single Rates: Single rates have an 50% surcharge to the above rates. Single may request share basis/same sex at same rate as pp/double occupancy
Extras Provided: Snorkeling equipment; Harbor fee for Pto Villamil, Isabela Island
Wetsuits: Are available to rent for a  nominal charge. Please advise your size (M/F; S-M-L-XL) at least 30 days prior to your departure dates. Wetsuits are paid for on board the vessel.
Payments on board: Cash only is accepted. A tab is run during the trip, payment handled on the last day.
Galapagos National Park Tax: A park fee of $100 per person must be considered, and is paid by the passenger directly on arrival to the Galapagos Islands. Children under 12 years pay $50.
Transit Control Card: A $20 per person fee is charged to all passengers. This card is issued when you depart for Galapagos, and you will need to show it prior to your return flight to the mainland.
Airline tickets:  You will need to consider airline tickets from Quito (or Guayaquil) to Galapagos and return. These flights are automatically reserved for you with your Galapagos tour reservation.  Prices range from $495-$540 approximately, and are subject to change.  Childen's discount applies.
For additional boat photos and details, visit M/Y Galaven.