Huaorani Kayak Expedition | Trip Notes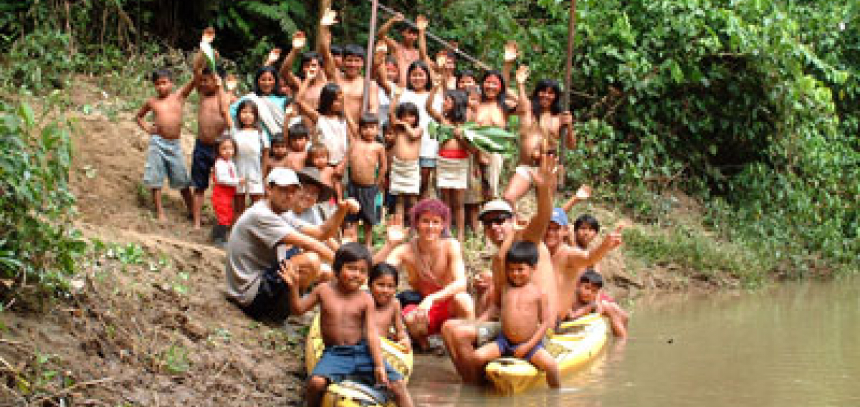 2012 Rates/
per person
4 people/
2 double rooms
2 people/
1 double room
Main 8 day tour
$1575
$2475
Plus airfare Quito-Coca-Quito**
$140
$140
Trip Notes:
*This trip begins and ends in Quito, Ecuador, which can be reached via daily flights on a wide variety of airlines. Latin American Escapes offers excellent discounted airfares, please contact us for a quote from your home city.
*Included: Road and river transportation from Coca, all camping gear, meals as described, expedition kayaks and gear, professional bilingual guides and native guides, entrance fee to Huaorani territory, one night tourist class accommodation in Coca. For groups larger than 6, dugout canoes are taken for logistical support.
*Not Included: Flight Quito-Coca-Quito (**currently $ 140-subject to change w/out notice), tips and personal expenses
* Additional days may be added in Quito at either the beginning or end of this itinerary if you wish to explore the city in more depth, or visit other interesting areas of Ecuador---the Galapagos islands, colonial cities, Indian markets, volcanoes, hot springs, etc.
Equipment -- During the trip we use the following equipment: solar showers, a portable toilet, Eureka & Northface tents, Prijon expedition kayaks, a dugout canoe with outboard motor, life jackets, a complete first aid kid including an anti-snake bite electric pistol, and all camping and kitchen equipment.
About the food --We do not add to the pressure on the environment by consuming food that the Huaorani hunt and gather from the forest. The majority of the food for the tourist operation is brought from Quito, including drinking water.
During the trip we offer gourmet and local food cooked at the moment by out staff. Normally breakfast will include: granola, fresh fruit, whole wheat bread, fresh coffee or tea, cereal, marmalade, pancakes or French toasts, yogurt and eggs at your choice.
For lunch or box lunch, we offer a different variety of sandwiches, fruits, cheese, raisins, peanuts, dried fruits, juices and fresh vegetables.
And for dinner we prepare: delicious soups every day, with main gourmet courses like, spaghetti al pesto, fettuccini, risotto, and local dishes such us rice with beans, plantains, yucca, mixed with a variety of meats, or fresh local fish from the river, mash potatoes and fresh salads and vegetables, all complemented with red or white wine, water or juices.
About this Tour--Huaorani leader, Moi Enomenga, made famous by articles in the New Yorker magazine that told about the Huaorani and their struggle against oil companies, for being the main character in the book 'Savages' by Joe Kane, as well as an NBC documentary telling of his struggle to protect Huaorani land from oil companies, is our native guide and ecotourism coordinator, and his community, Quehueri'ono, our counterpart in this joint venture.
Our program involves the exploration of both primary and secondary rainforest in the company of Moi and one of our own bilingual kayak expedition leader. Clients will have the possibility of observing Amazon wildlife during the hikes and while paddling the river, and will receive a conservationist interpretation of the ecology and actual situation of the Ecuadorian Amazon Rainforest.
To sum up, this program is a very special experience which will take you to one of the most ecologically important areas on the planet in the company of a unique rainforest culture. Although we do not provide such city comforts as hot water and private showers, we do provide the possibility to get intimate with nature at its most exuberance and to see life in the rainforest through the eyes of people who have lived there forever.
Your visit will help encourage the Huaorani to support responsible ecotourism as a viable alternative to sustainability rather than surrendering to the destructive appetites of the oil industry.
And most of all, your visit will provide an important income which will reinforce and promote the long term conservation of their cultural identity and their nurturing environment.
Note: While it is nice to have a schedule, you will find it more satisfying if we left the forest, the weather and our Huaorani guides lead the way….This itinerary should only serve as a guideline. as you must be aware of possible changes due to weather or river conditions that may not leave us the possibility to reach the community of Quehueri'ono. This itinerary is designed according to our experience, but conditions can change without prior notice, and therefore guides are entitled to modify or change the itinerary for the best interest and safety of the group. Being flexible in the Amazon will allow you to get most from your experience
Departures
Any day except Saturdays & Mondays (No flights to/from Coca on Sundays)
Price
4 people/
2 dble rooms/tents
$1575
2 people/
1 dble room/tent
$2475
Travel Style
either a recommended custom itinerary or group trip