Magic of Nicaragua | Trip Accommodations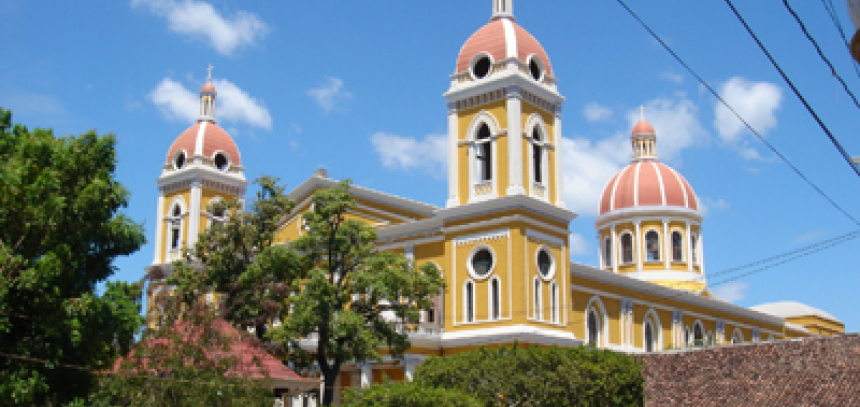 | Location | Moderate Hotels | Superior  Hotels |
| --- | --- | --- |
| Leon | Los Balcones or Las Mercedes | El Convento |
| Granada | Real la Merced/Standard room | Real la Merced/Suite w/balcony |
| Ometepe Island | San Juan de la Isla/Standard | San Juan de la Isla/Lake Front cabin |
| Managua | Los Robles | Elements Boutique Hotel |
| San Juan del Sur | Hotel Victoriano | Pelican Eyes Resort & Spa |
**Rooms are "standard" category unless indicated differently
HOTEL DESCRIPTIONS
LEON:
El Convento Hotel This hotel has been reconstructed where the San Francisco Convent used to be. San Francisco convent was the first and most antique convent in Leon city. Its church was founded in 1639. Because in 1830 religious groups were expelled from Nicaragua it became the I.N.O. (Instituto Nicaraguense de Occidente) The hotel itself has plenty of art and religious exhibitions and an elegant restaurant next to the enormous indoor patio awaits their guests. The hotel has 31 rooms. All rooms have TV cable, hot water, international dial tone, internet access, air conditioning, 24-hour room service and laundry service. In 2013 opened a gym and a beautiful pool.
Hotel Los Balcones, is a colonial house in León, Nicaragua, built in 1814. Strategically located within a walking distance from the Leon Cathedral, recently declared Cultural and Historical Patrimony of Humanity by UNESCO
The hotel has 20 spacious colonial decorated rooms and each of them offer air conditioning, cable tv, private bathroom and a panoramic view to the city of León. Also has a fantastic bar & grill restaurant for the enjoyment of each guest. Open daily from 07:00 to midnight.
The hotel services are oriented by a Social Responsible Management with a personal touch, as a new way of doing business. They work with Good practices of Sustainable Tourism of Rain Forest Alliance.
Las Mercedes Best Western Hotel León is located in the heart of the city, only 50mts away from the center of the city.
Las Mercedes Leon offers you comfortable rooms and professional service with authentic human warmth. The hotel is surrounded by the main business area where you will find banks, restaurants, bars, shopping centers, supermarkets and just 50 meters away the proud of Leon, La Basilica Cathedral de la Asuncion, recently named 'Patrimony of Humanity' by the United Nations Educational, Scientific and Cultural Organization.
The hotel has 20 rooms, which includes breakfast, parking, 24 hours a day security, internet access, safe, business center and comfortable rooms including single, double and triple options.
GRANADA:
Hotel Real La Merced is a rebuild beautiful and representative mansions of Granada with neoclassical style. In the 80s the house was declared a world heritage by the ministry of culture, was used as the setting for a movie and later deteriorated, so it had to be completely rebuilt.
Nowadays the house is a hotel with 18 rooms that are fully equipped, with private pool, breakfast, and gym. Every room has: tv cable, internet + wifi, hot water bathrooms, air conditioning. The furniture in the social areas are all old , purchased from collectors and local families to recreate the original spirit of the house, in other cases such as lamps, ceiling and doors are replicas of the originals.
Guests of Hotel Real La Merced are a safe distance from the city center, close to the main attractions, two blocks away from Parque Central and three blocks from Calle La Calzada (downtown).The location will allow you to be in the historic center of Granada, in front of the famous and historic Iglesia La Merced and its bell tower (best view in town).
OMETEPE:
San Juan de la Isla. The lodge is located in ''Finca'' San Juan that possesses 160 acres (65 ha) of rolling island terrain, full of tropical flora, two year-round fresh water springs, century-old stone walls, precious wildlife, over 40,000 fruit trees stunning views to both volcanoes and just a short bike ride or walk to the Altagracia town.
The refurbishment of the farm house and barn of Finca San Juan started on March 31st 2008. This hard work was undertaken in order to preserve the authenticity of the rural Nicaraguan style which can be seen today in its splendor and beauty. The building has three areas which are clearly different. The first and the oldest one is the farm house that has an excellent view to the lake. It also has four corridors for recreation and a central brick wall and roof tiled room that used to be the living room and bedroom. The second important room is the kitchen which is located to the south. It´s essential for farmhands and other personnel. The third room used to be the old barn located to the east which was also used in order to make cheese and other products derived from milk. The supply came from more than three hundred cows that grazed nearby in an extension of more than four hundred manzanas.
It is perfect lodge either for families or group of friends as the facilities are ready to offer a cozy atmosphere decorated by exquisite in décor by peculiar details the use of wood in the furniture and other items, which combined with the excellent service by local that will make your stay an unforgettable experience. Each room features private bathroom, hot water, fan, cotton linen and the basic conform of an farm house
MANAGUA:
Hotel Los Robles.  The hotel is ideally located in a residential area, a few minutes away from Managua's financial and commercial center. The owners of the hotel have tried to create a pleasant and relaxing atmosphere inside a distinctive colonial Nicaraguan home. Thanks to its small size, the hotel staff focuses their efforts on service and personalized attention to guests. All the furniture and antique items have been made with precious tropical woods, cotton bedspreads have been crocheted by hand, forged ironworks can be appreciated throughout the hotel and many other details have created a distinguished and unique atmosphere.
Each of their 14 rooms offer: Air conditioning, ceiling fan, bathroom with shower/bathtub, direct phone line, safety deposit box, hair dryer and small private patio. The services the hotel offers are: bar and room service 24 hours, laundry and dry cleaning, business center, internet free of charge & multilingual staff.
Elements Hotel Boutique.  The brand was created based on the inspired idea that welfare is actually living new experiences and connecting with something truly unique and individual. The hotel is formed from a vision focused on service and satisfaction, therefore every element is important to obtain the personality that symbolizes the brand and to create comfort. The hotel offers a total of 18 rooms and each of them features
Air conditioning, Mini Bar, Flat screen TV, Radio / Alarm Clock with iPod dock, Electronic Safe, Hair Dryer, Coffee, Rain shower system, Magnifying mirror,
Bathrob & slippers; Laundry service / Dry cleaning service at an additional cost
Due to its privileged location in the heart of Managua and the singularity of its spaces, Elements Papiro multipurpose event room is a great option for business and social events with a capacity of 60 people. The hotel also has a small restaurant & bar call Oxygen. A variety of restaurants and bars are located within walking distance.
SAN JUAN DEL SUR BEACH EXTENSION:
Victoriano Hotel. This Hotel was built in 1902 as a family house with the same English style of the Victorian period. Today in the XXI century is an elegant and charm Hotel that give to all their visitants an unforgettable experience. Rooms are completely equipped with : Wood Furniture ( Real Cedar ) made by Nicaraguan artisans keeping the classic design of the Victorian period, TV Cable, DVD, Wireless, Air Conditioning, Safety Box, Mini Bar, Hair drier and also additional services like: Room Service from 06:00am to 11:00pm.  The hotel also features a restaurant and a bar
Pelican Eyes Resort & Spa.  Located in the charming village of San Juan del Sur on Nicaragua's stunning Pacific Coast, Hotel Pelican Eyes offers a distinctive blend of gracious hospitality, local charm, architectural flair, and community commitment, all within a unique setting that blends harmoniously with the natural environment and local culture. The hotel's spacious and distinctive accommodation feature environmentally friendly straw bale construction, soaring cane ceilings, exposed natural woods, handcrafted furniture, unique regional artwork, ocean views, and tranquil garden tableaus. Relax and refresh yourself amidst the peaceful beauty and natural harmony. All rooms include queen size beds (or larger); satellite television; air conditioning; purified water; private patio or terrace; large private bathroom with hot water; and a full breakfast served daily. The Resort also features 2 restaurants, 2 pools, 2 bars and a Spa services room.
Note: Pelican Eyes Resort & Spa is a walking property with MANY stairs, and may not be suitable for all guests. If you require special consideration due to physical limitations or health considerations, please feel free to consult our team
 
Departures
2019 Departures
Any day
Most museums are closed on Mondays
Price
Moderate
2 people/1 room
$1850 p/p
4 people/2 rooms
$1300 p/p
Superior
2 people/1 room
$2100 p/p
4 people/2 rooms
$1550 p/p
 
Travel Style
recommended custom itinerary