Refugio Amazonas | Trip Accommodations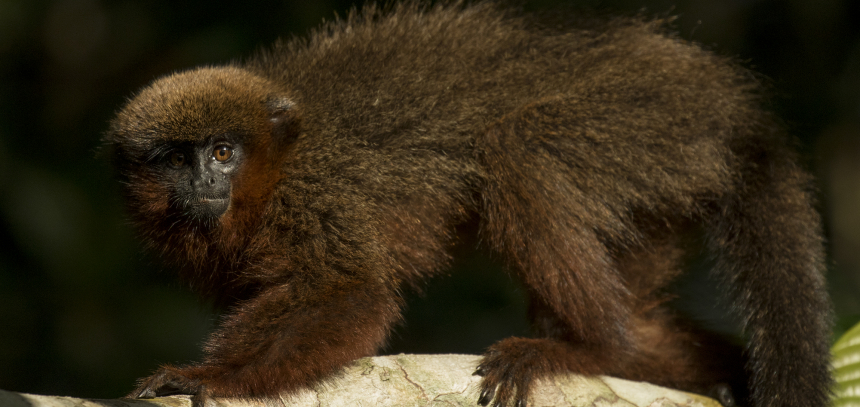 Click here for photos of Refugio Amazonas
Refugio Amazonas is built using a combination of traditional native materials (wood, palm fronds, wild cane and clay) and architecture and modern day eco-lodge technology. The lodge consists of four wings of 8 rooms connected by raised boardwalks to a central, two story, 20 foot tall common area. This area has distinct ambiences serving as lobby, dining room, bar, shop and lounge. This structure is the heart of Refugio's atmosphere: it provides great canopy views of the surrounding forest – from a hammock … and a whistle away from a drink!
The entire roof of the lodge is constructed using high quality crisneja palm fronds, whereas the floors are of tropical mahogany.
Refugio Amazonas has 5 Superior, 23 Comfort, and 4 Amazon Suites:
SUPERIOR ROOMS
Quaint, comfortable rooms in the middle of the tropical rainforest allow guests to experience this global biodiversity hotspot even during their down time. Monkeys, many species of birds, frogs, and other rainforest wildlife are often visible from our signature windowless verandahs. Those same verandahs also add comfort with excellent ventilation. Our Superior rooms are built with local materials such as tropical hardwoods, palms, bamboo, and adobe.
Our Superior Rooms are available as doubles or triples and come equipped with mosquito nets for the beds and have spacious private bathrooms with hot water.
Experience the Peruvian jungle in one of our superior rooms and enjoy:
• Quaint, classic, comfortable Amazon rainforest rooms.
• Watching birds and looking for other rainforest wildlife from an open verandah that looks straight into the Amazon jungle.
• All rooms are built with local materials for an authentic experience.
• Each bed has a mosquito net.
• Hot water bathrooms in the heart of the jungle!
• Electricity is available 24 hrs 
• Internet access is just short walk to the common areas of the lodge
• Soft, romantic lighting from candles and kerosene lamps.
• An authentic jungle retreat to rest up before and after guided trips to the canopy tower, guided hikes in the jungle, watching Giant River Otters and other wildlife at an oxbow lake, and other exciting jungle activities.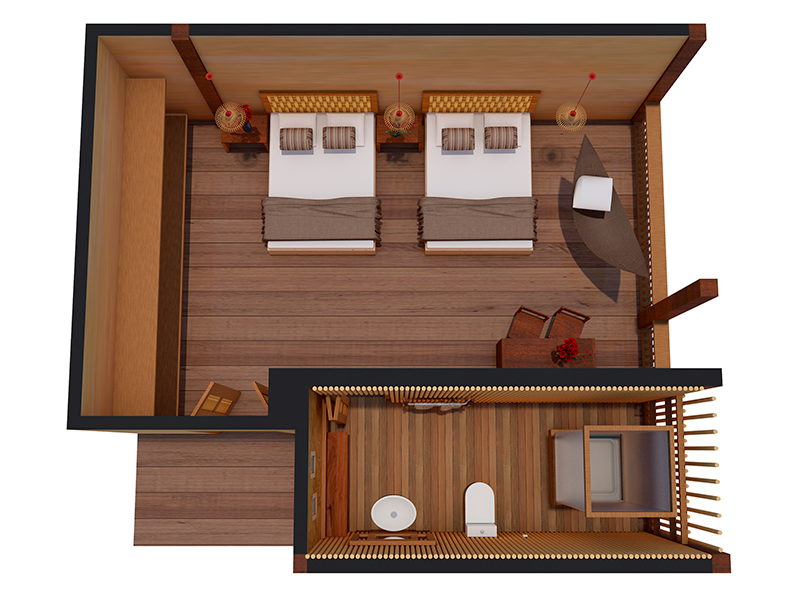 COMFORT ROOMS
Our Comfort rooms have lovely, varnished tropical hardwood floors, are 45 square meters, and have an open verandah that looks out into a roadless, wild tropical rainforest preserve. Comfort rooms are available as singles, doubles or twins, and each is equipped with a mosquito net over large, comfortable beds, two hypoallergenic pillows per person, a hammock, and a reading table
Stay in one of our Comfort rooms and enjoy :
• A large, spacious, 45 meter square room.
• A big spacious bathroom with plenty of hot water.
• Electricity is available 24 hrs
• An outlet to charge your laptop, tablet, and other devices.
• Free online access from the comfort and privacy of your room to communicate with the outside world, and share the images and excitement of your Amazon adventure.
• Personal safe deposit box.
• An umbrella (this is the rainforest after all).
• Several eco-friendly amenities.
• A place to relax after exciting jungle hikes, watching macaws fly past at the canopy tower, visiting a tranquil oxbow lake, experiencing Ese Eja culture, and enjoying other exciting Amazon rainforest activities.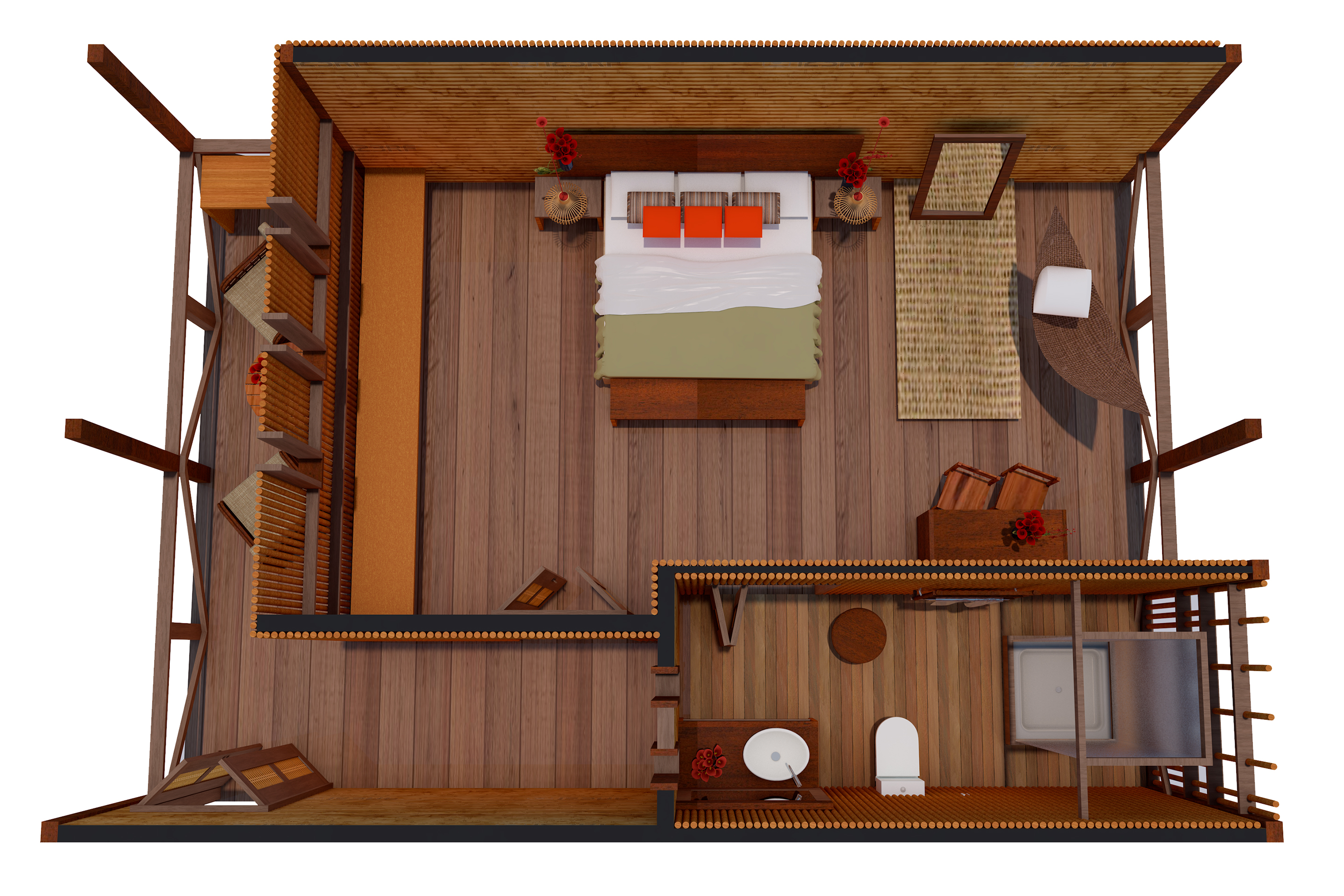 SUITE ROOMS
Add a bit of extra comfort and quality to your Amazon experience by staying in one of our premium rooms. We are offering one of these excellent new rooms at our lodges for guests who prefer to upgrade their stay in the Peruvian Amazon. Each of these beautiful new rooms features authentic Ese-Eja décor that has been crafted by artists from the local indigenous community, handsome varnished tropical hardwood floors, and the same intimate view of the surrounding rainforest as our other rooms.
These rooms also add comfort with a big luxurious bed, hypoallergenic pillows, ceiling fans, electricity, and other fine amenities in the middle of the jungle.
Relish your time in one of our Suite rooms and enjoy:
• A large, beautiful room with varnished, tropical hardwood floors.
• Large bathrooms that feature showers with tempered glass, and hot water 24 hours a day.
• A ceiling fan for a bit of extra comfort in an already well ventilated room.
• Electricity 24hrs
• Beautiful, authentic Amazonian décor crafted by local Ese-Eja artisans.
• Wireless internet service to share the images of your adventure with friends and family from the privacy and comfort of your room
• Small refrigerator and mini bar.
• Amenities such as comfortable flippers and binoculars for watching wildlife from the verandah.
• A big luxurious bed with hypoallergenic pillows and comfortable sheets.
• A reading table to jot down notes about your Amazon adventure.
• Electrical outlets for recharging those essential devices.
• Safe deposit box.
A comfortable place to relax and email images from an exciting morning at the canopy tower, night hikes, and other adventurous jungle activities.
Gemeral Facilities at Refugio Amazonas:
Electricity - Electricity - Via a 110V generator.  Electricity is available to all rooms 24 hrs/each day
Communication – Refugio Amazonas is in daily contact with our offices in Puerto Maldonado and Lima via internet, satellite phone and hf radio. Wireless internet is available throughout the lodge. Internet is good enough for sending and receiving emails and images.
Mosquito Nets - All rooms have mosquito nets over the beds, bedside tables and a rack of clothes hangers.
Jungle Views - Bedrooms open out onto the surrounding rainforest, allowing guests to enjoy this unique ecosystem even on their downtime, with wild animals, including monkeys, often visible from the lodge.
Hot Water -Hot water is available in all rooms.
Scroll down for photos of the Refugio Amazonas rooms and facilities
Refugio Amazonas-Superior Room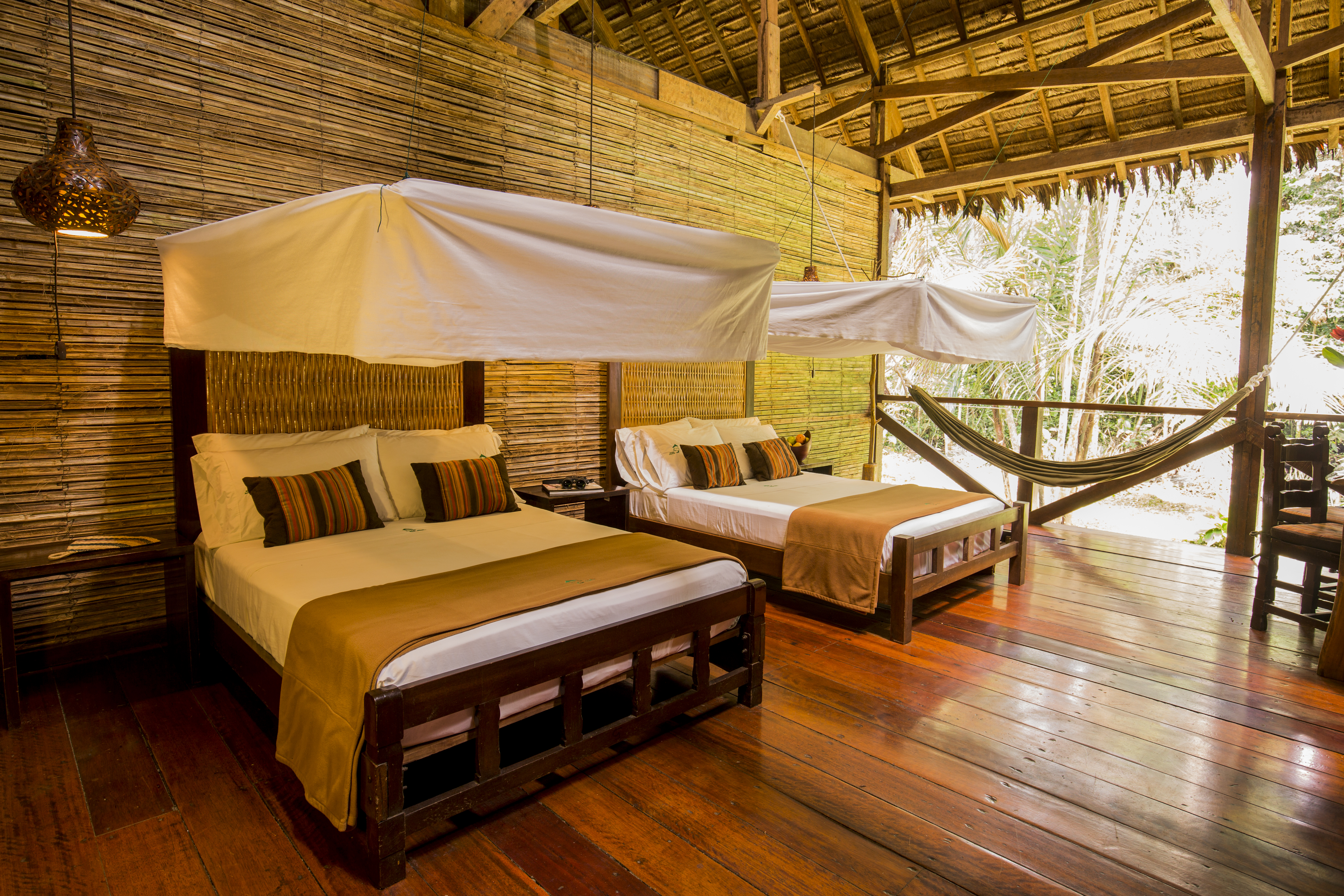 Refugio Amazonas-Comfort Room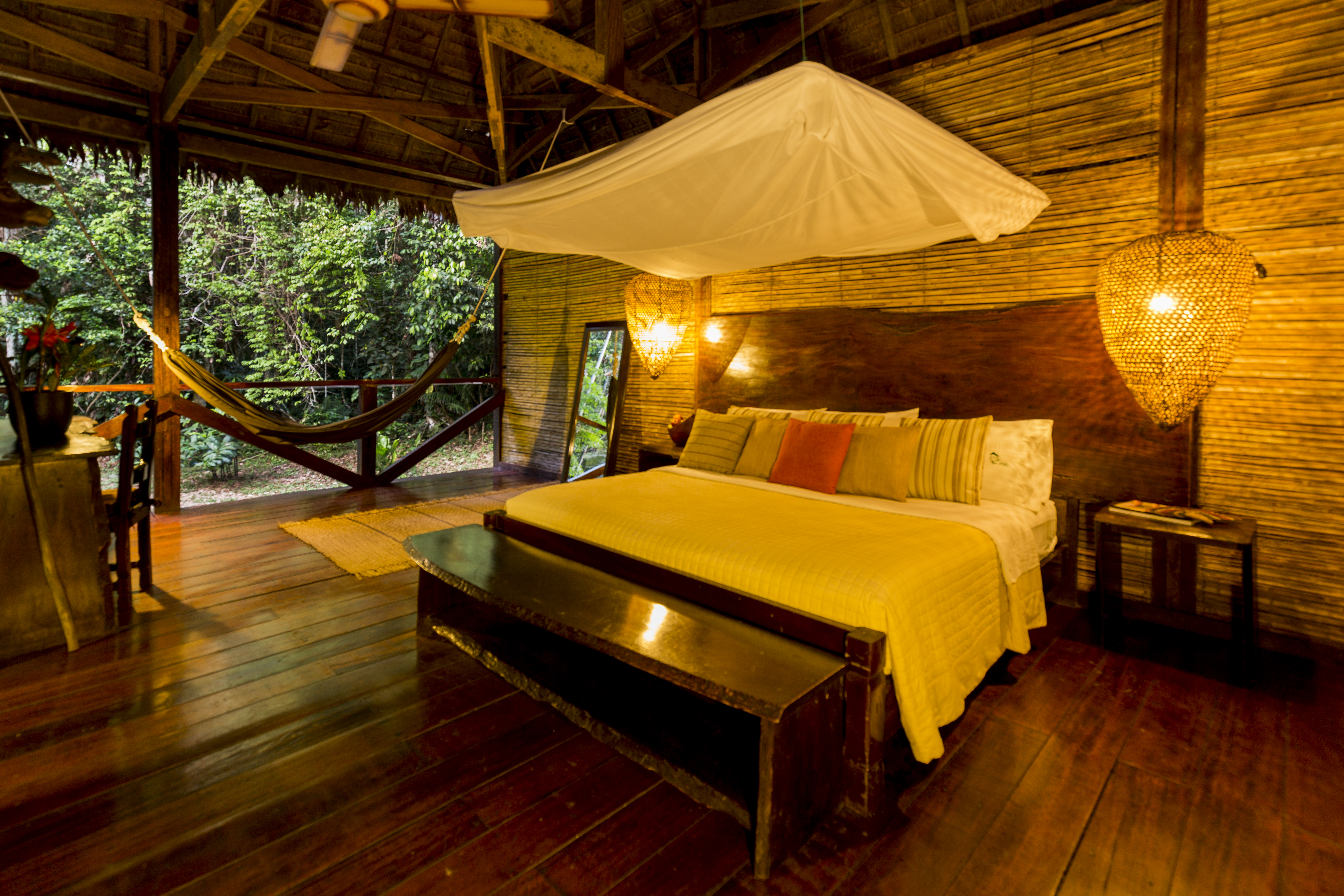 Refugio Amazonas-Suite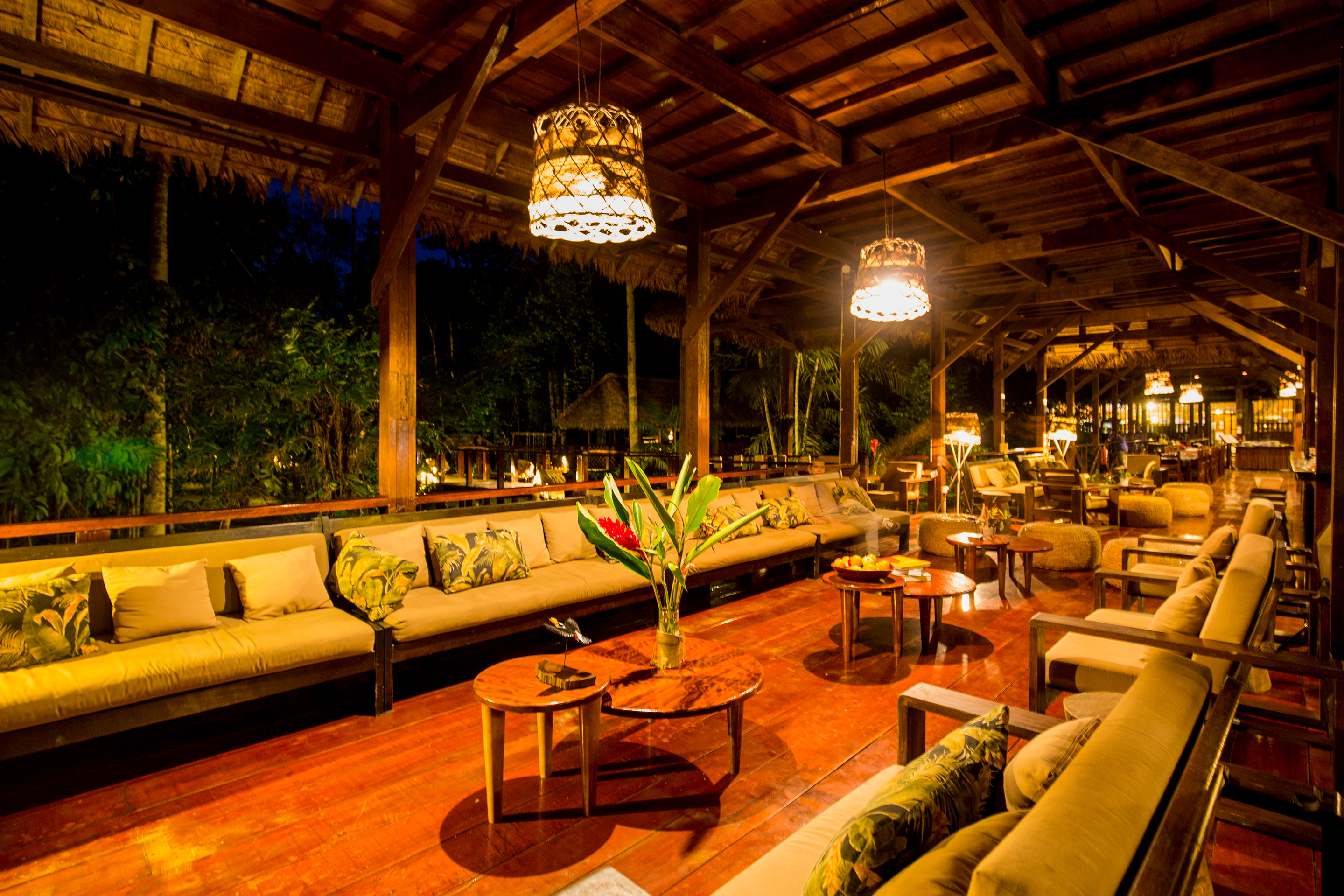 Refugio Amazonas-Lounge area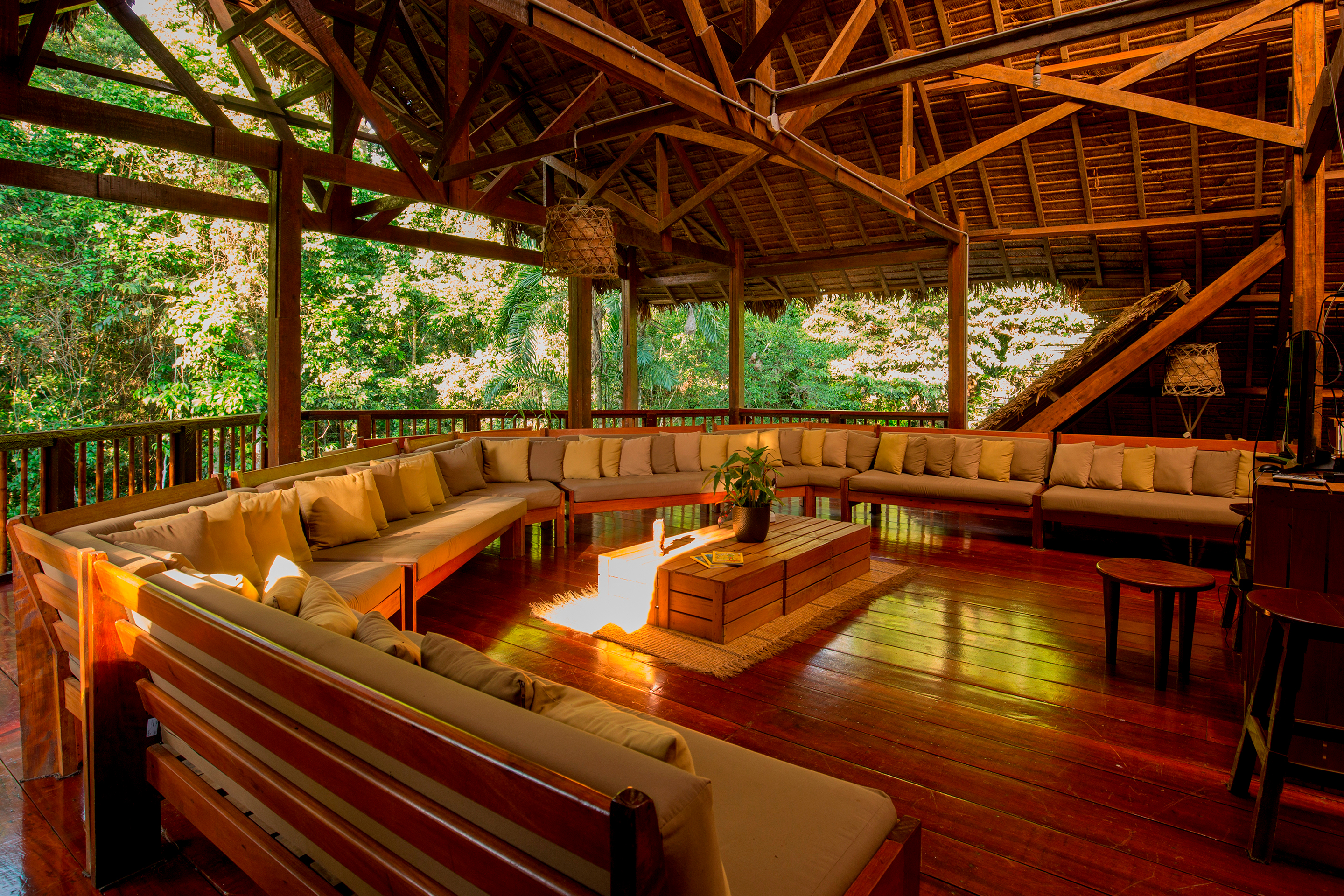 Refugio Amazonas-2nd level lounge area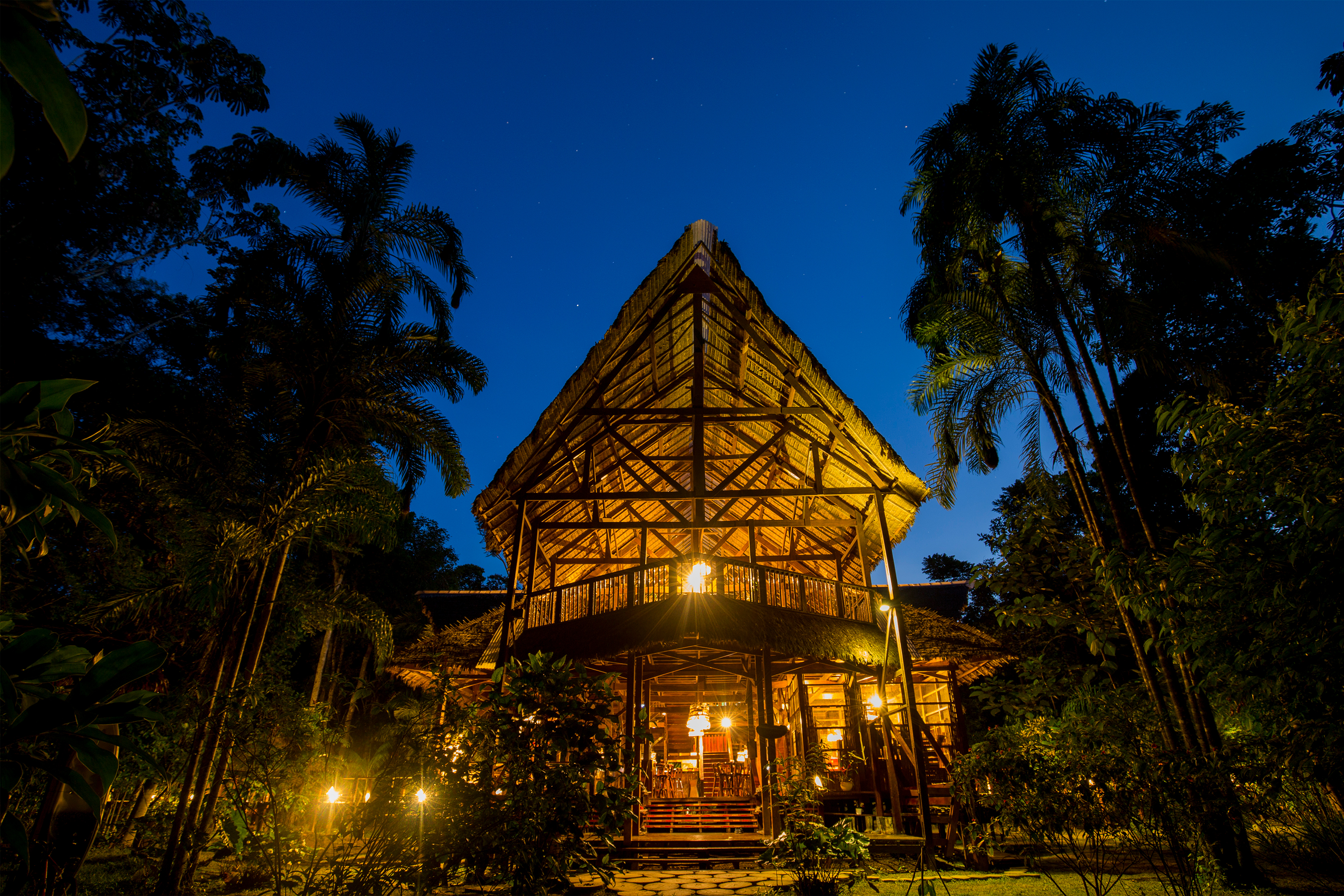 Refugio Amazonas Entrance
Departures
2020 Departures
Any day based on flight schedule to/from Pto. Maldonado
Any day based on flight schedule to/from Pto. Maldonado
Price
4 day/3 night
from $861 pp
5 day/4 night
from $1148 pp
Travel Style
group trip offered as a component to a complete itinerary