Costa Rica Culinary Adventure | Trip Accommodations
Finca Rosa Blanca/Days 1, 2  & 3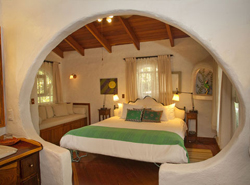 Located in the central highlands where some of Costa Rica's best coffee is grown, Finca Rosa Blanca Coffee Plantation Resort is surrounded by exotic tropical gardens and an organic coffee farm. This owner-operated Resort is home to large numbers of native birds and wildlife, organic orchards and greenhouses, and is located only minutes from two volcanoes, misty cloud forests, wild rivers and tumbling waterfalls.
The Finca Rosa Blanca Resort offers a large range of activities including Coffee and Chocolate Tastings with the experts, visits to colorful produce markets and the sensory experience of a passion fruit and mango cocktail. 
The renowned restaurant El Tigre Vestido presents a sophisticated menu of original recipes, from contemporary twists on traditional Costa Rican dishes, to innovative recipes based on locally sourced products which the hotel's world class chef will share in personalized cooking classes. Finca Rosa Blanca earned the deserving distinction in 2013 of the #1 Hotel in Central America by Conde Naste Traveler's/People's Choice Awards
Monte Azul/Days 4, 5 & 6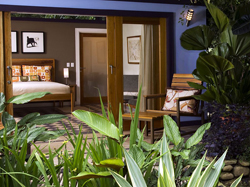 In the Southern Highlands, near Chirripó National Park, Monte Azul Mountain Resort, also owner-operated, sits along the Chirripó River on a private 100 acre nature preserve. The region is known for its abundant wildlife, picturesque mountain scenery and for the production of high quality fresh local products such as dairy, coffee, pineapple and many varieties of fruits and vegetables.
Monte Azul offers guests stylish Casitas each with a private garden, an extensive, private trail system where guests may visit a waterfall, the Chirripó River, the on-site goat dairy, and an organic vegetable farm as well as the contemporary Art Gallery and Studio.
Monte Azul offers unusual activities from cheese making, bread baking, cocktail mixing and natural soap making, as well as yoga and spa treatments. Café Blue, the on-site restaurant offers a daily seasonal menu based on 100% locally produced items, ranging from Costa Rican to Asian, European and American dishes.
Departures
Price
4 travelers/
2 double  rooms
$1725 per person
2 travelers/
1 double room
$2445 per person
Travel Style
recommended custom itinerary