Costa Rica Culinary Adventure | Trip Itinerary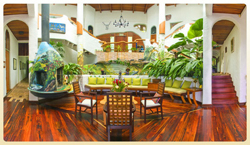 Day 1: Arrive to San Jose, Costa Rica.  After clearing immigration and customs, you'll be met by a representative from Finca Rosa Blanca Coffee Plantation & Inn, and transferred a short distance into the lush hills surrounding San Jose. Check in to your room for a 3 night stay.
Depending upon your arrival time and the weather, we will take you on our Sustainability Tour to orient you to our award winning hotel, the grounds, restaurant and coffee farm and then we will share your itinerary for the days to come. 
We have planned for a welcome dinner the night you arrive which features our Farm to Table menu emphasizing the fresh produce harvested from our green house, gardens and farm.  Featuring Raw Julienned Chayote Squash, Sweet Red Peppers and Lime Salad and Fried Green Plantains served with a Red Bean and Mango Salsa. (D)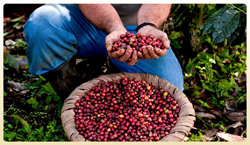 Day 2: Time to stroll the grounds, maybe a little early morning bird watching before a peaceful breakfast on the deck of the Tigre del Vestido restaurant.
After breakfast, enjoy a 3 hour guided tour of the Finca Rosa Blanca Organic Coffee Farm, Roasting House & Coffee Cupping
Experience coffee through the ages; learn how coffee was discovered, traded and consumed, then stroll the lanes of our organic sustainable coffee plantation and learn the entire process of organic cultivation and harvest, including participating in the picking of coffee during our harvest Season (Oct- Jan.) We will then take you through the processing of coffee, including cleaning the berries and drying them, ending with roasting your own coffee in our roasting and packing house.
Learn how the experts discern and rate gourmet coffee by participating in a "coffee cupping" (catación) session with our knowledgeable Coffee Expert and Guide.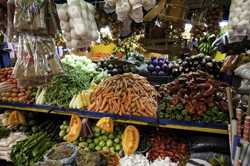 Following your coffee tour, it's time for a culinary delight with La Cuchara de Costa Rica  (A Taste of Costa Rica)
We've included the chef's famous guacamole served with Pico de Gallo, a fresh tomato salsa and House made Chips of cassava, plantain, boniato and sweet potato and Lime & Garlic Marinated Chicken Thigh served with House Made Mango Chutney.
VISITING HEREDIA and the Central Market:
After lunch, you'll depart with your guide and drive a short distance to the city of Heredia , the provincial capital founded in 1706 to visit Spanish Colonial style landmarks around the Central Park, the main cathedral, El Fortin, the Guard tower as well as the Casa de La Cultura.
A highlight here will surely be the stop at the colorful Central Market for shopping and learning about the produce, spices and raw ingredients of Costa Rican Cuisine. Experience the sights, smells and sounds of the Central Market, crowded and bustling and filled with exotic fruit, vegetables, spices and herbs.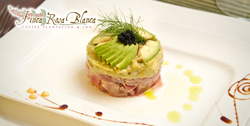 MINI COOKING CLASS
After returning from Heredia, you'll have a little "mini" cooking workshop. This is your opportunity to learn how to prepare a traditional Costa Rican snack such as Patacones, which are fried green plantain chips and a very popular local snack. Another dish may be a fresh catch of the day ceviche and "agua del sapo", a delightful mix of lime juice, ginger and raw cane sugar.
Dinner tonight is a feast of the senses with The Chef's Traditional Costa Rican Tasting Menu.  This special menu features Arepas (corn cakes) served with black beans and fresh farm cheese, cilantro and quinoa;  heart of palm and pejibaye (the fruit of the heat of palm tree) salad served with a vinaigrette of banana and herbs;  and for desert--mango tres leches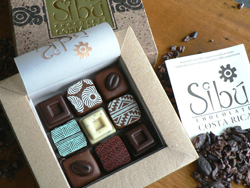 Day 3:  Today is chocolate day! After breakfast, depart for SIBU, an organic, artisanal chocolate factory.
Here you'll visit the Sibú Chocolate workshop and learn about the history of the cacao crop in Costa Rica and its arrival in Europe. The emphasis is on what the sacred crop means to local indigenous cultures, both in Pre-Columbian and modern times.
During the presentation, visitors are invited to sample chocolate confections and tasting squares made on the premises with 100% organic Costa Rican cacao, plus a demonstration on how to temper chocolate by hand, as well as glimpse artisan chocolate production.
Lunch is included at the Sibu Chocolate workshop and garden. You'll have some free time to wander freely in this private mountain setting before returning to Finca Rosa Blanca for a relaxing afternoon.  You are free to enjoy the grounds, swimming pool, spa, or perhaps relax on  your patio and soak in the beautiful views.
Note:  This afternoon we can add an optional tour to the Ark Botanical Gardens and Meadery.
Tonight you'll enjoy our famous Coffee Connoisseurs' dinner at  The Tigre Vestido restaurant.  The menu features a roasted tomato and coffee soup, filet mignon in a red wine and coffee reduction and house made coffee ice cream and double chocolate cake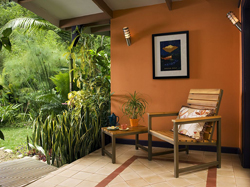 Day 4:  Transfer from Finca Rosa Blanca to Monte Azul.
Depart after breakfast for the transfer into the lush cloud forest area near to Chirripo Volcano. On request, we can arrange a stop at the soda (small local restaurant) at the exit to San Gerardo de Dota near Cerro de la Muerte for a typical lunch featuring Tico (Costa Rican) specialties.  (you'll pay the restaurant directly).  Along the way you'll be able to stop at fruit stands with local seasonal produce, such as granadilla, plums, etc. Arrive at Monte Azul, Check in and relax
This afternoon you'll learn how to use Costa Rica ingredients to create specialized classical drink such as the CosmoTico, etc… Also available a non-alcoholic Costa Rican tradition, called "Agua de Sapo." Enjoy a sampling of our bocas, or Costa Rican style tapas with your drink while we prepare a special dinner for your enjoyment.
Dinner tonight is a special affair at Monte Azul's  Café Blue, where you'll experience  a special tasting menu of seasonal recipes  (B,  D)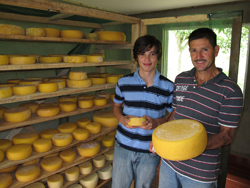 Day 5
Guests are taken to Wilberth and Katia´s family farmstead creamery for a full cheese making experience, from milking the cows to making and aging the cheeses. Learn about this industrious family's history and leadership in sustainable practices.
Your lunch today at Café Blue will feature Wilberth and Katia´s cheese
You have a choice of activities this afternoon.  Select one from the following four choices, OR take the afternoon off and opt for an activity tomorrow
1-Soap Making
Using all natural ingredients, including coconut oil form a local family farm, this fun workshop is taught by owner Randy Langendorfer. Guests learn the story of soap and the traditional process of making a high-end boutique quality product, and will take the fruits of their efforts home with them.
2-In Room Spa Treatment
Enjoy a complete relaxation massage in your own suite. Our professionals, Molly Dunn and David Retana, are trained and certified experts. With their expert technique and products made from 100% natural ingredients, end the afternoon feeling rejuvenated and relaxed.
3-Yoga
For all levels, from novice to advanced, enjoy this relaxing and body strengthening activity in pristine surroundings.
4-Tamale making workshop
Meet the owner of Antojitos de Maiz, Doña Ana, in her own kitchen where she and/or her daughters will teach you the complete process of preparing authentic local style tamales. Start with ears of locally produced farm fresh corn, vegetables and locally raised pork and end with a savory tamale wrapped in banana leafs and served with the traditional Costa Rican Lizano sauce. This will be your dinner, accompanied by a selection of seasonal and deliciously rustic dishes and desserts.
Your dinner tonight will be at Monte Azul's premiere restaurant  Café Blue and features light and fresh seasonal dishes created from locally sourced products, (B, L, D)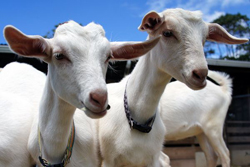 Day 6                            
A great way to start your day in the forest is with an invigorating hike through our private nature preserve among the rainforest flora and fauna, past waterfalls, rivers and our small organic coffee farm. Stop at the goat farm and learn about our on-site goat dairy, where our well-tended goats live happy and productive lives. Automobile transfer to the goat dairy is also available.
Lunch at Café Blue: After your morning communing with nature and goats, meet at Café Blue for a tasting of our famous farmstead cheeses. After meeting our goats, like Maria, Betty, Trixie, Bettina and the rest, you will surely appreciate the cheeses even more!
The lunch menu features fresh and creative dishes incorporating our own farmstead cheeses.
After lunch take some time for yourself—relax around the garden get a spa treatment, go hiking—the choice is yours! (B, L, D)
Day 7/Departure
Transfer to next destination. Leave Monte Azul following breakfast. Transfer to San Jose is included in the price, and can easily be amended for other destinations on request (B)
B=Breakfast, L=Lunch, D=Dinner
Departures
Price
4 travelers/
2 double  rooms
$1725 per person
2 travelers/
1 double room
$2445 per person
Travel Style
recommended custom itinerary