Costa Rica Adventures in Paradise | Trip Itinerary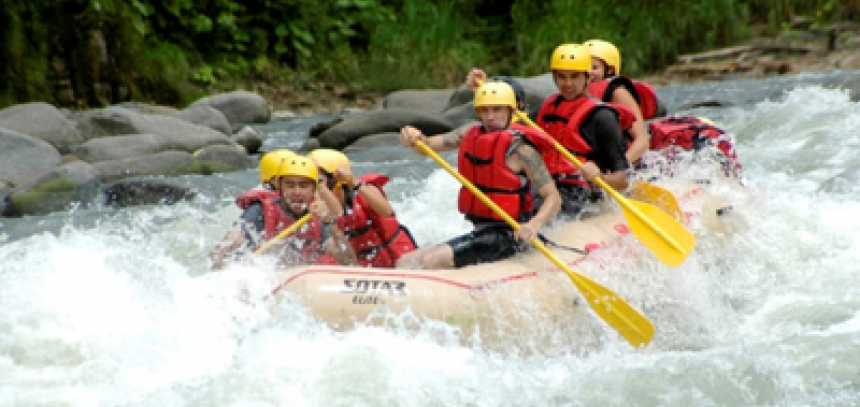 Day 1: ARRIVAL TO SAN JOSE, COSTA RICA
Upon your arrival in San José, Costa Rica and after you clear customs & immigration, exit the airport terminal, take the right hand side exit door where you will meet our local representative will present you with land portion vouchers and transfer you to the Hotel Bougainvillea in San Jose. Check-in for an overnight stay.
DAY 2: TO SAN GERARDO DE RIVAS + STOP AT QUETZAL'S PARADISE
Today you will head south on the Pan-American Highway and travel to the base of Chirripó National Park. En route, you will visit the famous Quetzal's Paradise. Here you will challenge yourself with your resident guide to find the legendary Resplendent Quetzal and other mountain wildlife of the cloud forest. After a typical Costa Rican lunch you will continue your journey to the quaint village of San Gerardo de Rivas where you can relax, explore a bit and rest up for your hike early the next morning. Lodging and dinner at Uran Hotel. (BLD)
DAY 3: CHIRRIPO PEAK ASCENT
At 3,819 meters (12, 529 feet) Chirripó is Costa Rica's highest mountain and the vast 50,150 hectare (123,916 acre) park is a World Patrimony Site and Biosphere Reserve. You will have an early breakfast and start your hike on the trail a couple hundred meters (yards) outside your hotel. Your hike today will start at the base of the mountain and cover a total distance of 13 km (8 Miles) bringing you through a diverse variety of habitats from oak forests to paramo (tundra habitat) above the tree line.   Dress in layers, for you will quickly warm up on the initial ascent known as "the thermometer" (which is one of the steepest sections-subsequent sections are for the most part more gradual), and then may experience sudden drops in temperature nearer the peak. In the region around the summit, temperatures may vary from about 23 degrees Celsius (74 Fahrenheit) during the day and descend to near or below freezing at night. Travel time to the Ranger's Station Shelter where you will stay during your two nights' visit, varies from about 6 hours for fast hikers and up to 12 hours or more for slower trekkers. Today you will finish your hike and rest at the Ranger's Shelter below the actual peak of the mountain. Bring plenty of water, and a portable purifying filter to refill your bottle, a poncho, warm clothes to use in layers and snacks.  Your main pack and your meals will be brought up by horses (or local guides).  (BLD)
Day 4: CHIRRIPO PEAK
Clearest views from the summit are usually best early in the morning before clouds build up. On a clear day you can see the distant coasts from the peak! The journey to the peak is a short hike of 5.5 km (3.4 miles) from the Ranger's shelter and generally takes an hour or two. The summit region offers a panoramic view of the landscape of small shallow lagoons (whose bases were carved out of the rock by ancient glaciers), tundra vegetation composed mostly of short hardy bamboo plants and low vegetation, and rugged craggy rock outcrops. The harsh conditions of intense brilliant sunlight alternating with dense cloud cover, sometimes strong winds, thin air, and daily fluctuations of day and night temperatures create a magical landscape of singular beauty. Other hikes in the area can include those to Rabbit Valley and the massive rock formations known as "Los Crestones" or Crests. These rise starkly above the landscape and are likely the most photographed area near the summit and practically the symbol of the park's peak. Overnight shelter in National Park.  (BLD)
Day 5: DOMINICAL BEACH
Today you will hike back to San Gerardo de Rivas (a downhill journey that takes almost half the time of the original ascent) and enjoy lunch before departing to Dominical Beach on the Pacific coast.  The waters off the beach are renowned among surfers.  Waves can reach 3 m (10 feet) in height, although more commonly they are in the 1 to 3 meter (3 to 6 foot) range. The Dominical area is dominated by rural country scenes of cattle pasture, lush forests and rocky coastline and long dark sand beaches.  Offshore, one can see dolphins and sometimes whales which migrate to the region seasonally.  A variety of activities in the area include rainforest birdwatching and wildlife viewing, hiking, tree canopy tours, surfing, kayaking and other tours.  Check-in to the Villas Rio Mar for a two-night stay.  (BLD)
Day 6: DOMINICAL BEACH
After breakfast you will enjoy your Sea Kayak tour. You will start at Ballena Marine National Park from Piñuela Beach and travel to Ventanas Beach. En route you will enjoy views of the coastline, seabirds, and perhaps sight dolphins, sea turtles and whales and then take a break at Hermosa Beach.  Off the beach you can try your luck surfing the waves with your kayak, followed by a visit to caves located behind the beach.  En route back to your hotel, you can visit Uvita Waterfall and freshen up in a cool natural river pool in the forest.  (BLD)
Day 7:  SAVEGRE RIVER RAFTING + RAFIKI SAFARI LODGE
Today you will be picked up at your hotel in the morning to enjoy a Class III-IV rafting trip on the pristine Savegre River.  The journey to and on the river is a scenic voyage in remote backcountry. Your guided rafting trip will include a short briefing and safety talk, and then you will start down river.  En route you can take breaks to cool off in natural swimming holes and during the journey you will enjoy views of the rural scenery and likely a variety of tropical bird life. After the raft trip, drive along the river to the Rafiki Safari Lodge, where you'll spend the night. (BLD)
Day 8: CANOPY TOUR + RETURN TO SAN JOSE
After breakfast at the Rafiki restaurant, you will stop at the famous Titi Canopy Tour. Named after the local species of squirrel monkey this cable and harness "zipline" canopy tour is well known for the beauty of the rainforest in their private reserve. On the tour you will have the thrill of gliding on a pulley that rolls on cables high above the forest floor through the trees! Between glides, while on the 16 platforms in the forest canopy you will have a good chance to see Titi monkeys as well as howler and white faced monkeys. After the tour you will have lunch in a local restaurant and then drive back to San Jose.  Check-in to the Hotel Bougainvillea for an overnight stay.  (BL)
Day 9: DEPARTURE
Transfer to San Jose's International Airport on time for your departure flight. Check in 3 hours before your scheduled flight home.  (B)
Note:  If your flight schedule requires early morning departures, we can arrange for an additional night with hotel in San Jose on request.
B=Breakfast, L=Lunch; D=Dinner
Departures
Daily with a minimum of 2 travellers
Price
$2625 p/p
$430 single supp
Travel Style
recommended custom itinerary