The Magic of Costa Rica | Trip Itinerary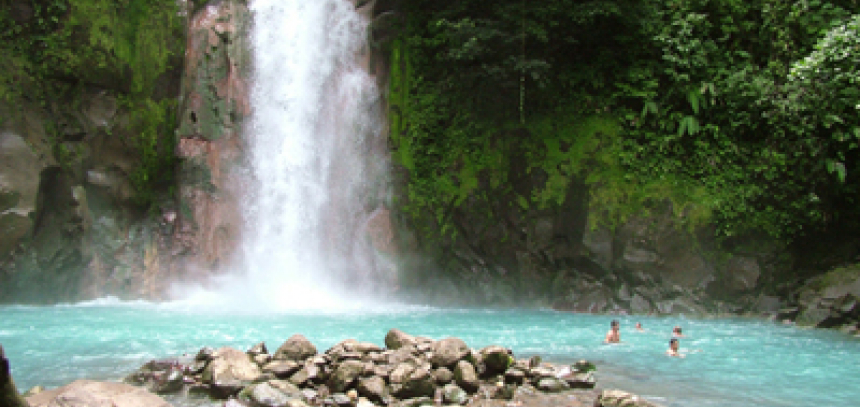 Day 1: ARRIVAL TO SAN JOSE, COSTA RICA
Upon your arrival in San José, Costa Rica and after you clear customs & immigration, exit the airport terminal, take the right hand side exit door where you will meet our local representative will present you with land portion vouchers and transfer you to the Wyndham San Jose Herradura located near to the airport. Check-in for an overnight stay.
Day 2: TRANSFER TO ARENAL; LA FORTUNA WATERFALLS & ORGANIC FARM W/ LUNCH
Morning pick-up at your hotel by your private naturalist guide, who will accompany you for the next five days, along with air-conditioned van.  Enjoy a scenic drive to the Arenal Volcano region Upon arrival visit La Fortuna Waterfall, entrance fee included. Located just 3 miles away from the town of La Fortuna near Arenal Volcano, this beautiful 200 foot-tall waterfall receives its cool clear waters from the pristine forested mountains of Arenal National Park. The steep trail to the waterfall goes down through dense, lush rain forest where one has the opportunity to see parrots, toucans and tropical hummingbirds. In addition to seeing a majestic waterfall in a beautiful setting, visitors to the falls are helping the local community. The fees collected are used for important community projects such as supporting area schools, buying books, and helping cover some of the expenses for the town orphanage. Additionally funds are used for recycling projects, maintenance of the community water supply, improvement of the local roads and sidewalks and construction of an educational center.
Afterwards, visit Vida Campesina (Country Life). This organic farm lets you experience life in the Costa Rican countryside with a farming family that grows typical crops and are practicing newer sustainable agricultural techniques. Enjoy a traditional lunch with freshly harvested vegetables, lunch includes a hands-on demonstration on tortilla making. Continue to your hotel, and check-in to the Arenal Observatory Lodge for a two-night stay. (BL)
Arenal Volcano is located on the north plains of Costa Rica, province of Alajuela. Following a 40-year period of activity emitting molten lava and red-hot rocks accompanied by occasional eruptions, Arenal continues to steam and heat area waters. The area is surrounded by lush rainforest that harbors abundant wildlife and many bird species like toucans, motmots, parrots, parakeets, jacamars, tanagers, honeycreepers and hummingbirds. While Arenal Volcano continues to be the main attraction in this region, in recent years many optional activities have been developed which visitors can enjoy during their visit. Recommended activities in Arenal: forest canopy tours, and treetop suspension bridges, rafting class II & III, canyoning, birding, caving, sport fishing, nature hikes, lava hikes, horseback riding, waterfalls, butterfly gardens, thermal springs, organic farms and more.
Day 3: LAVA FLOW WALK, HANGING BRIDGES & THERMAL HOT SPRINGS
Optional early morning bird watching with your guide at the lodge gardens. This morning with your guide, you will hike a trail that brings you on top of a 50 foot tall lava flow from Arenal Volcano that formed in 1992. On your hike you will have an opportunity to see a variety of rainforest wildlife and view the volcano from a safe vantage point while your guide explains its fascinating history.
After the tour enjoy a delicious lunch in the area. Afternoon visit the Arenal Hanging Bridges, entrance fee included. This is a complex of suspended bridges and trails through a beautiful rain forest. These allow the observation of flora and fauna from the ground level to the top of the trees.  As you walk through, you may encounter toucans, motmots, trogons, poison dart frogs, howling monkeys, spider monkeys and white-faced capuchin monkeys.
Late afternoon, visit the Ecotermales Hot Springs, entrance fee included. There are four hot spring pools to relax in, filled with hot mineral water heated from the volcano. Receive a natural massage from the small cascade! Traditional dinner available in the restaurant (to be paid directly) (BL)
Day 4: TRANSFER TO BLUE RIVER.  EXPLORE THE LODGE'S GARDENS
Optional early morning bird watching with your guide.   Morning departure from Arenal to the Blue River Lodge. En route your guide may stop along the way if sloths and other roadside wildlife are spotted.  On arrival to the lodge, you'll check-in for a two-night stay. Later, after a delicious lunch, enjoy a walk through the heliconia, butterfly and hummingbird gardens. Here there is an incredible collection of flowers that attract many butterflies and birds. Among the butterflies you can see Blue Morphos, Owl butterflies, Postman butterfles, Zebra and Tiger Longwings. Hummingbirds that visit here include the Little Hermit, Violet-headed Hummingbird, Violet-crowned Woodnymph and Purple-crowned Fairys that are regulars at the gardens.
Nearby iguanas are raised and there is a frog pond to explore. In the area's forests you may encounter wildlife including toucans, motmots, trogons, poison dart frogs, howling monkeys and white-faced capuchin monkeys.  Free time this afternoon to enjoy the hot springs of the lodge. (BL)
Day 5: BLUE RIVER HIKE AND THERMAL SPRINGS
Optional early morning bird watching with your guide.  After breakfast, you will have a guided hike to see the famous Pénjamo River which is also known as the Blue River. The river is tinted a turquoise color by volcanic minerals. Visitors will have time to explore trails by this natural beauty, enjoy the many natural pools, swim and relax. Back at the hotel there will be more time to see the grounds, or enjoy the hotel spa and hot springs before dinner. (BL)
Day 6: RINCON DE LA VIEJA NATIONAL PARK,  AND PLAYA HERMOSA GUANACASTE.
Optional early morning bird watching with your guide. Morning depart from Blue River to Rincon de la Vieja National Park.
This park is the "Yellowstone" of Costa Rica and features a landscape of steaming vents, boiling mud, and a hot river all heated from volcanic sources set in forest below a number of ancient volcanoes. Extending back from this section are forests with ancient trees and home to spider monkeys, howling monkeys, white-faced capuchin monkeys, agoutis, leaf-cutter ants, toucans, morpho butterflies and other creatures great and small. After the hike continue to Playa Hermosa in Guanacaste, where you check-in to the Bosque del Mar for a 3 night stay.  (BL)
Day 7: EL VIEJO WETLAND & HACIENDA
Today in the morning you will visit El Viejo Wetlands and a traditional Casona de Guanacaste. Located in Filadelfia, Guanacaste, the magnificent 5000 acre private Wildlife Refuge called El Viejo Wetlands will introduce you to an exciting place recognized internationally for its exuberant wetland and dry forest flora and fauna. In the same place you will see the area's famous "Casona". The Casona is typical type of house built by hard-working people of the Guanacaste countryside during the1800s. In the afternoon your guide goes back to San Jose, and you return to your beach hotel. (BL)
Day 8: PLAYA HERMOSA GUANACASTE.
Free day to explore or relax on the beach. There are a number of optional activities available in the area including watching turtles dig nests at night during the nesting season, diving, snorkeling, body surfing, zip-lining, horseback riding and fishing. (B)
Day 9: DEPART TO LIBERIA AIRPORT, SAN JOSE AIRPORT OR HOTEL
Pick-up at your hotel for a transfer from Playa Hermosa to Liberia's International Airport (45 minutes) or San Jose's international airport (over 4 hours) in time for your departure flight.   Check in 3 hours before your scheduled flight home.
We can also transfer you to a San Jose hotel an arrange for an additional night if required by your international flight schedule, and/or add extra days at the beach.
B=Breakfast; L=Lunch; D=Dinner
Departures
Daily with a minimum
of 2 travelers
Price
$2380 p/p
$780 single supp
$640 child 3-11 yrs
Travel Style
recommended custom itinerary