Nicaragua's Cuisine and Culture | Trip Itinerary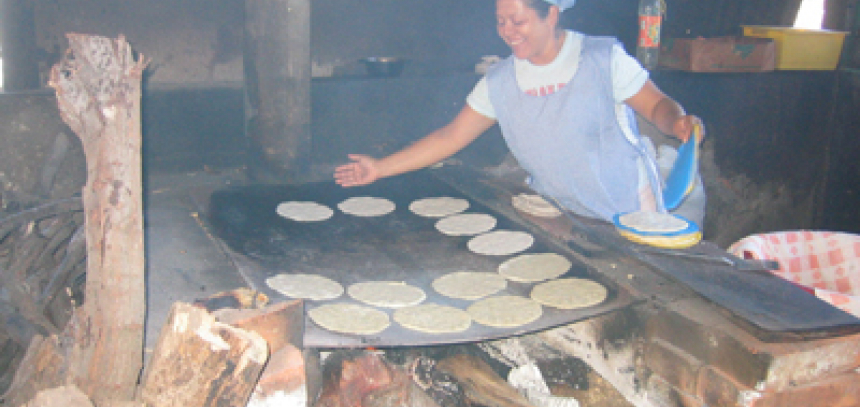 Note:  This tour is a suggested, customized itinerary that is very flexible. We can make changes in hotels, excursions and destinations to suit your travel dates, style and budget.
Day 1:  Private guided Transfer from International Airport to Managua
Meet at the Airport & Guided Transfer to Los Robles Hotel for an overnight stay.
Day 2:  Basics of Nicaraguan Cuisine
Spend the morning in Managua seeing the city before a cooking workshop that will   introduce you to the basics of Nicaraguan Cuisine. Experience on-site the amazing mixture of Indigenous, Spanish and Creole food. After lunch you will be transferred to Colonial Leon. A stop will be made on the way where you will have the opportunity to learn how to make ''Quesillo'',  a popular Nicaraguan dish originally from La Paz Centro and Nagarote, in the department of León. The ''quesillo'' is easy to prepare. A piece of cheese (which is named quesillo) is placed inside a tortilla. This is then wrapped up in a plastic bag. Onions and vinegar are added, and the finishing touch is to put fresh cream and a bit of salt on top.
Check-in to the El Convento Hotel in Leon for a three-night stay. (B, L)
Day 3:  Colonial Leon & Flor de Cana Rum Factory
The colonial city known as Santiago de los Caballeros de León is the capital of the department of León, with less population than Managua (capital city of Nicaragua). The architecture of the houses and buildings of León highlights for its neoclassical, gothic, baroque and colonial styles also captured in its 16 churches, and in the Insigne y Real Basílica de Nuestra Señora de la Asunción, whose building began in 1747 and was prolonged for 113 years.  Under its immaculate central nave is the mausoleum, where the mortal remains of the Prince of Castilian Letters, Rubén Darío rest. After your city tour you'll enjoy lunch at a local restaurant before heading to the Flor de Caña Rum Distillery- the largest alcohol SPIRITS DISTILLERY in the Americas.
Upon arrival you'll have a guided visit during which you can witness the fascinating process used, including the areas of distillation, quality control, and filling of oak barrels and the bottling of the products for consumption. You'll then be transferred to the Rum Showroom where you will be invited to taste the different presentations of this magnificent rum, which has been awarded many prestigious international prizes. 
Return to the el Convento Hotel where you'll continue with the "rum theme" as you have a lesson from the bartender  on how to prepare Nicaragua's National Drink, the Macua—a tasty and refreshing cocktail made with white rum.(B, L)
Day 4:  Juan Venado Island / Poneloya  and free time at the beach
Private guided transfer from Leon to Las Peñita to enjoy of the boat trip through Juan Venado Island and then transfer to the beach to lunch.
Juan Venado Island: Is a nature reserve, important protected area in Nicaragua. It forms part of the country's national park system and is well-known as a vital coastal wetland region. The stunning Juan Venado Island is situated 1 hour away of Leon city. Upon arrival to Las Peñitas beach, your guide will lead you to where you will board your private motor boat for an exciting 2 hours boat ride.
Juan Venado is considered a barrier island and measures 22km in length and has a width of 0.5km, totaling 2.934 hectares. It stands out as a thin strip near the coast of Nicaragua. The island's altitude is no higher than 25m. Separating the coast from the island is an ecologically important mangrove forest or swamp. This marvelous biological zone provides the ideal home for an abundance of animal life, particularly marine creatures. The edge of the Juan Venado island which faces into the Pacific ocean possesses a fine estuary and is also a vital nesting site for Olive Ridley sea turtles (from May to November). The estuary of Isla Juan Venado is itself home to a diversity of organisms including water birds, the cayman, crocodiles, iguanas, crustaceans and more. Isla Juan Venado Nature Reserve has no people residing in it, so you will be enveloped in solitude and the beauty of nature. 
Late afternoon return to your hotel in Leon, with plenty of time to enjoy dinner in one of the many local restaurants. (B, L)
Day 5:  Travel to Granada, with visit to Masaya Volcano National Park, Artisan Market of Masaya & Folklore night (Thursdays only)
En route to Granada you will do a stop at the Masaya City for lunch. After Lunch at local Restaurant, your local expert will lead you to the Masaya Volcano, Where we will get off our vehicle and walk a few steps to see the Santiago crater, active since 1946. We will also have time to explore the surrounding area and see more volcanic formations. Then you will visit the Masaya Market where you will have the chance to see and buy some art craft at the local market.
At the evening you will be part of the 'Jueves de Verbena', that is a cultural event that takes place every Thursday in Masaya. You will enjoy: folkloric dances, music, and traditional Nicaraguan food.
In this center professional or amateur folkloric dancing groups from throughout Nicaragua present different types of traditional Nicaraguan dances: mazurka, palo de mayo, the güegüense dance, and more. Those dances are the result of a mix between ancient dancing techniques of European and indigenous rhythms. The performers are always dressed in clothes that traditionally go with their dances.  Besides the dancing, there is also music. There are performances of Nicaraguan singers and players. This cultural show is completed by food stands and restaurants who offer typical Nicaraguan meals and snacks. (Dinner & Drinks on your own).  Afterwards continue the short distance to Granada, where you check-in to the Hotel Real La Merced for a three-night stay.   (B, L)
Day 6:  Cigar Factory, Tour Colonial Granada, & Chocolate Cooking Class
After Breakfast you will visit Mombacho Cigars, guest will have a unique experience which will captivate you and create memories that will last a lifetime.
Guests will be greeted by one of bi-lingual tour guides who will begin the tour by giving a background into the history of tobacco cultivation and cigar production in Nicaragua. Next, there will be an explanation of the various tobacco growing regions in Nicaragua, pointed out on a relief map of Nicaragua which clearly shows the topography of the country.  Following this, a background into the history of the company will be given.
Next, guests will be explained the history of Casa Favilli, the building which houses Mombacho Cigars. Casa Favilli is a historic landmark in Granada. Built in 1925 by renowned Italian architect Mario Favilli, who built several very important monuments and buildings in Nicaragua.
Guests will then enter the production area and will be given a demonstration on cigar rolling. They will be explained the purpose of the different filler tobaccos which are used and our style of rolling. After the demonstration, guests will roll their own cigars. The cigar are then place in a press for half an hour.
Whilst waiting for the cigars to be pressed, guests will be guided through the various stages of production starting with the humidification of the wrapper and binder leaf, followed by the de-vaining of the wrapper and binder. Next, guests will be taken to the drying room where filler tobaccos are de-humidified and then taken to ´the kitchen´ where the various tobaccos are stored,  guests will be explained about how the various tobaccos from different parts of the plant and from various regions are blended together to create a balanced and complex cigar.
The next stage is for the cigars to be aged for a minimum of 6 months.  Guests will see how the cigars are stored in perfect climate-controlled conditions in our state of the art aging room. Finally, after 6 months of aging, the cigar are packaged by hand and shipped out, guests will see the care taken in placing the bands onto the cigars and the careful selection and presentation which goes into packaging.
To top it all off, guests will be taken to the terrace where they will be able to enjoy a wonderful, panoramic view of Granada, the highest point in town!  From this point, one can contemplate spectacular views of the Mombacho volcano, the Isletas of Granada, Granada´s colonial architecture, churches and Cathedral, and on clear days, one can view as far as Concecpion and Maderas volcanos on the island of Ometepe. 
We then return to the production area to wrap our cigars and finish the process.
Finally guests will be able to enjoy a cigar and a drink in our air-conditioned lounge and will be able to purchase our products from our walk-in humidor. Enjoy!
Continue your day with a city tour of Granada. Founded in 1524, Granada is the oldest European settlement in the Americas. You will tour the city by horse drawn carriage.  This experience will transport you 500 years back to the past. After your carriage experience you'll walk around the main square and admire La Merced church, the famed convent of San Francisco where you'll have the opportunity to see the mysterious stone idols, made by our Indian ancestors, as well as an impressive collection of genuine pre-Columbian sculptures.
Enjoy lunch at a local restaurant, followed by your afternoon. "Chocolate Cooking Class"
Everybody knows about Belgian, Swiss or French chocolate but have you ever heard about Nicaraguan chocolate? Originally from Central America, this plant has an extraordinary history; it was one of the most important products for the Mayan and Aztec cultures, as well as other Central American cultures. The discovery of America led to the introduction of chocolate in Europe, transforming it into the product we all know today. At Choco Museum we will follow all the processes to make chocolate from fermented organic cacao beans. We will learn how to roast, winnow, grind, mix, conch, refine and mold. At the end of the 2 hours' workshop you will leave with a sample of your very own handmade Nicaraguan chocolate. Don't miss an original opportunity to learn how to prepare Chocolate!
Your evening is free to explore the many restaurants & nightlife of Granada, and enjoy a stroll in the plaza to shop the handicraft vendors.  (B, L)
Day 7:  A Taste of the Caribbean cuisine and Boat Trip on Lake Nicaragua
There are a lot traditional Nicaraguan dishes. Each region, according to geographical and cultural characteristics, produced various dishes, drinks, and sweets. The Caribbean coast is not the exception. Today, your first experience will be heading to the local market to find the perfect seafood and fresh ingredients to learn how to prepare the Caribbean dish of today.
After lunch you will transfer down to the pier on Lake Nicaragua for a leisurely boat ride trip through "Las Isletas" where you can observe local inhabitants going about their daily lives, and observe the many varieties of birds that inhabit the lake.  Late afternoon return to your hotel, with the evening free to enjoy your last night in Nicaragua.  (B, L)
Day 8:  Departure Transfer to International Airport
After breakfast you will have your private unescorted Transfer from your Granada hotel to the International Airport (45 minutes drive).  (B)
B=Breakfast; L=Lunch; D=Dinner
 
Departures
2019 Departures
Daily
**Best on a Sunday, to allow for Thursday night celebration at Masaya Market
Price
2 people/1 room
$2750 p/p
4 people/2 rooms
$1995 p/p
Travel Style
recommended custom itinerary