Trekking Torres del Paine, Los Glaciares and Mt Fitzroy | Trip Itinerary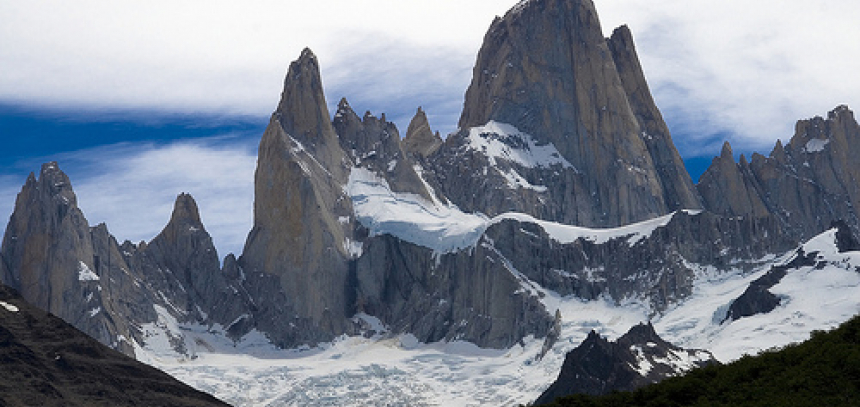 For a map of the route for your Trekking Torres del Paine click here.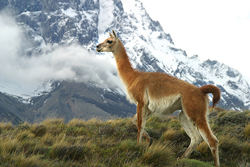 Day 1:  Arrival in Santiago. After clearing customs and immigration proceed outside the airport where our local representative will be waiting to transfer you to the Hotel  Orly, Rugendas, Eurotel, Torremayor, or similar, located in the Providencia  or Las Condes districts of Santiago.  .  Remainder of the day to rest and explore Santiago. Optional tours available.
Day 2:  Travel to Torres del Paine National Park
Breakfast is included at your hotel.   You will be picked up at the prearranged time for your transfer to the airport for your flights to Punta Arenas, which need to be scheduled to arrive before 12:30 PM, which is the last pick-up time.  Transfer (345km/216 miles/ 5 hrs) to Camp Las Torres in Torres del Paine National Park. From Punta Arenas we drive to Cascada EcoCamp located in world famous Torres del Paine National Park. During summer the sun sets around 11 pm, so as you drive in you'll have plenty of light to admire the Patagonian steppe with its guanaco and snow-peaked mountain horizon. Before arriving though, there are a couple stops. One is at Puerto Natales, a small but lively town on the shores of Seno Ultima Esperanza - "Last Hope Sound". You are invited to check out the town, leave any luggage you will not need for the trek in our office, and finally enjoy a hearty lunch with delicious local food. The other stop is at Cueva de Milodon, a massive prehistoric cave where the remains of a giant ground sloth were discovered in the 1890's. The surrounding area is very scenic with plenty of wild birds to be seen. The day ends with an overnight at the EcoCamp in Las Torres.
Punta Arenas to Puerto Natales: 254 km / 158 miles / 3 hrs driving.
From Natales to Torres del Paine C. Torres: 147 km / 91 miles / 2.5 hrs driving.
(B, L, D)
Day 3:  Paso Los Cuernos.  We start our adventure in the Park with a pleasant walk through the curly Cuernos trail located beside beautiful Lake Nordenskjold. During this 'appetizer walk' we take in the park's charming flora and fauna, its strong wind and the curious 4-seasons weather that will accompany us for the next days. As we advance through the trail we enjoy magnificent views of the park's central lakes and the Paine's Horns which are majestic black horn-like peaks of slate atop gray granite which crown the center of the Massif. We will of course stop to get some great first shots of the park and also enjoy a delicious box lunch to energize us for the rest of the walk. The trek ends at Refugio Los Cuernos, a small and cozy mountain refuge located by the shores of Lake Nordenskjold. Alternatively the trek ends at Domo el Francés, located between Cuernos and Italiano camping sites, with an amazing view of Nordenskjöld lake. The evening is free for relaxing and enjoying dinner. 
Approximate walking time: 6 to 7 hrs.
Distance: 16 km / 10 miles
(B, L, D)
Day 4:  French Valley - Valle del Frances to Pehoe. After breakfast, we begin a challenging trek to Valle Frances (French Valley), a steep trail that goes into the very heart of the Paine Massif. How deep we go depends on our groups' rhythm. An active walk leads us to the hanging bridge over the French River, located at the foot of the south east face of the Massif. From this point, we can enjoy our first truly wonderful view and then continue up the trail until reaching the upper prospects of the valley. The entire group of geological formations of the high valley can be admired here: Hoja (Blade), Máscara (Mask), Espada (Sword), Catedral (Cathedral), Aleta de Tiburón (Shark's Fin) and the magnificent Fortaleza! (Fortress). It is time to have a picnic and recover from the walk. An optional trek to Mirador Britanico is available as well. Next, we descend through an undulating terrain of mixed grassland and light forest until reaching the Refugio Paine Grande, located in the peaceful shores of Lake Pehoe. Finally, upon reaching the Refugio, the luggage is organized and there is time to talk about the day while enjoying a replenishing dinner. Duffel bags are carried in by porters from Refuge Los Cuernos to Refugio Pehoe
Approximate walking time: 8 hrs.
Distance: 25 km / 15 miles
(B, L, D)
Day 5:  Pehoe--Grey Glacier.  This day will see us hike from Paine Grande Refugio along the shores of Lake Pehoe to the northern side of the glacially beautiful Lake Grey. We will feast on a picnic lunch before boarding the boat that sails right to the huge, crystalline facade of Glacier Grey, where we will have plenty of time to marvel at the calving glacier.  From the southern end of Glacier Grey we will transfer to EcoCamp.Due to the temperamental weather of the region, boat trips across the lake may occasionally be restricted during Shoulder Season (October and April) or cancelled if the required minimum of 10 passengers is not reached. If either is the case, we will trek up to the sightseeing point and profit from wonderful, panoramic views of the Glacier instead. Then we will return on foot to Paine Grande and take a catamaran to Pudeto's dock, where we will be picked up and driven to EcoCamp.
Approximate walking time 4 hours
Distance: 14 km / 9 miles
Navigation time: 40 minutes
(B,L, D)
Day 6:  In Paine National Park (Valle Asencio).  Today's goal of our 7-day Trek will be to complete the most famous trekking trail in Torres del Paine National Park! We will walk from the campsite towards Hostería Las Torres before ascending to Ascencio Valley on the Tower's eastern face. Mountain ridges, beech forests and small rivers line the scenic walk towards the valley. Our big challenge comes in the form of the steep moraine, a huge mass of boulders which will lead us to that iconic  base-view of the Towers - Three gigantic granite monoliths, the remains of a great cirque sheared away by the forces of glacial ice. After a tough uphill climb, the Towers eventually come into full view, rising majestically before us, with the glacial lake visible below. Is there any better place in the world to have lunch? After feasting on the view and our picnic, we backtrack along the same trail through Ascencio Valley and return to EcoCamp for a well-deserved dinner.
Approximate walking time: 9 to 10 hrs round trip.
Distance: 21 km /13 miles round trip.
(B,L,D)
Day 7:  Laguna Azul (Eco-Camp LasTorres).  Today will consist of a less strenuous trail in order to counter the exhausting efforts of the previous day. After breakfast, we will take a leisurely car journey towards Laguna Azul,  passing Cañadón Macho, home to many wild guanacos and ñandúes, en route. We will pause occasionally to admire the views of the Patagonian steppe and the towers from a different perspetive. At Laguna Azul, we will hike to the lookout point where we will be treated to a gorgeous view of both the lagoon and granite towers. After lunch, we will drive to the northern shore of Sarmiento Lake where the Fauna Trail begins. As we hike northbound, we will spot an impressive range of Patagonian fauna on the vast plains, including: guanacos, ostrich-like ñandús and maybe the occasional puma print! We will pass the charming Goic lagoon and after approximately 5km of relaxed walking, we will reach the Laguna Amarga ranger station where we will be picked up and driven back to Ecocamp to celebrate over our farewell dinner.
*Please note that if there are more than 6 travellers in the group there's an option to split into two groups, with one group (or the whole group if everybody's in the mood!) cycling to Laguna Azul!
Approximate walking time in the different trails: 3 hours
Distance: 6 km / 4 miles (depending on weather conditions)
(B, L, D)
Day 8/Sunday: Travel to El Chalten (Argentina). We wake up early and start driving to Cerro Castillo border crossing to Argentina. In Castillo we board a regular bus to Calafate, a small town set on the edge of Los Glaciares NP amidst dramatic scenery and natural beauty. If there are other travel fellows starting from Calafate we'll meet them in town. After some hours on the bus, we arrive to Calafate, where a local guide  meets us and give us a general explanation about the trip while we have lunch.  Next we will continue with a semiprivate transfer to El Chalten, a tiny outpost beside Los Glaciares National Park, and at the foot of the impressive Mount Fitz Roy. The drive will take us across isolated dirt roads, through the pampas and along the northern end of Viedma lake. Once we've checked into our hotel in El Chalten, it's time to get some rest and prepare for the upcoming days.
Torres del Paine to Cerro Castillo (borderline): 63 km / 39 miles / 1.5 hrs driving.
Cerro Castillo (borderline) to Calafate: 287 km / 180 miles / 4 hrs driving.
Calafate to Chalten: 220 km / 138 miles / 4 hrs driving
(B, BL)
Day 9/Monday:  Laguna Torre
We do a full day hike along Cerro Torre Trail to Laguna Torre, an extremely pretty mountain lake with majestic Mount Torre in the background. After breakfast, we walk eastward, following the trail through beech forests and bogs to a pleasant encounter with Fitroy River. We continue advancing and reach Camp Base de Agostini and then do a short hike to Laguna Torre, escorted in the west by Cerro Torre and the Adela range. Icebergs can be seen peacefully floating on Laguna Torre as the wind pushes them to the coast. We stop at different points to take in the magnificent view and enjoy a picnic. Later, we return to Chalten following the same trail. There's an optional day trip for those wanting to trek on Torre Glacier for an additional charge of $150 p/p.  Those taking this exciting option get up earlier and do it apart from the main group. Upon returning from the trek, the evening is free to enjoy a delicious dinner at one of Chalten's cozy restaurants.
Laguna Torre Trail
Approximate walking time: 7 hrs. Distance: 22 km / 14 miles round trip.
Altitude: low altitude trails, no need to worry.
Optional Glacier Torre Trekking:
Approximate walking time: 12 hrs (2 hours on the glacier)
Distance: 15 km / 9.32 miles round trip.
(B, BL)
Day 10: The Challenge: Laguna de los Tres and Mount Fitzroy
Today's trek is to Laguna Los Tres with the best available view of Monte Fitzroy - The landmark in Los Glaciares NP! Once again, a big breakfast and lots of enthusiasm is required. We begin our hike by heading towards silent Laguna Capri, passing just beside its northern corner. Then we follow the Fitz Roy Trail up to Rio Blanco, passing Poicenot, the mountaineering camp. Finally, a short but steep trail will take us to Laguna de Los Tres to take in one of the park's most marvelous natural scenes! The turquoise-blue of the Lagoon is a stunning sight and this is of course magnified by the accompanying view of Fitz Roy's spires and glaciers. You'll probably experience a Torres del Paine flashback. If Torres del Paine is the king mountain of Patagonia, Fitz Roy is surely its beautiful queen! It's a perfect time for a picnic. In such a memorable place the food cannot help but taste better than ever! When everyone's ready, we'll hike back to Laguna Capri and continue along the trail back to tiny Chalten.
Laguna Los Tres Trail:
Approximate walking time: 9 hrs. Distance: 25 km / 16 miles round trip.
Altitude: low altitude trails, no need to worry.
(B, BL)
Day 11:  Pligue Tumbado to Calafate
Today we'll do a short morning trek following the Pliegue Tumbado trail. After an hour trekking up the hill we'll reach "Mirador de las Carretas", an excellent viewpoint of the western bank of the Massif with great views of Cerro Torre and the picks around Mount Fitzroy. We will then return to Chalten to gather our lugagge and begin our semiprivate journey back to El Calafate, following the same pampas-lined roads which welcomed us upon our arrival. Once we get back to El Calafate, you can check out a nice place for dinner before heading back to the hotel.
Loma del Pliegue Tumbado Trail:
Approximate walking time: 8 hrs. Distance: 24 km / 15 miles round trip.
Altitude: low altitude trails, no need to worry.
(B, BL)
Day 12:  Perito Moreno Glacier
Once we finish enjoying an early breakfast we board the minibus and start the drive that'll take us to Perito Moreno Glacier. After a couple of hours we'll reach Los Glaciares NP and continue driving to Bajo de las Sombras Bay sector, where we board  the boat that'll sail approximately twenty minutes on Lago Rico reaching the south wall of the glacier. In the other side the guides give us a short talk about the formation of glaciers together with other interesting details about local geology. From this point we do a short walk to the edge of the glacier where we're given the crampons to be fitted to our shoes. Now we start the ice trekking adventure! Although we feel somehow strange walking with the crampons, it'll take us just a few minutes to get used to it. As we walk ahead we face terrific views of the glacier and surroundings. Our trek finishes with a little ice bar serving whisky on freshly chopped millenary ice from the glacier, a unique touch. After the walk and having lunch, we continue on to the footbridges with multiple view points of the glacier's incredible north wall with its mighty cracking walls. Here we're left free to enjoy the surroundings at our own leisure. After the thrilling encounter with the glacier, we drive back to Calafate.
Note: Due to operational insurance issues, the age limit for doing the ice trekking on Perito Moreno Glacier is 65 years old.  If a passenger exceeds this age then an alternative excursion to the Glacier will be arranged.  Alternatively you can choose to do a glacier hike on Glacier Perito Moreno (additional costs apply)
Perito Moreno excursion: 8 hours approx.
Approximate ice trekking time: 2 hrs. Distance: 1 km / 0.6 miles.
(B, BL)
Day 13:  Today we finish this memorable trip, Adios Patagonia! Hopefully we'll meet somewhere else. After having breakfast, a transfer will take us to the airport and we're free to continue traveling to your next destination, or international departure point.
B=Breakfast; L=Lunch; D=Dinner
Note:  From El Calafate, you can return via Puerto Natales to Santiago, or fly from Calafate to Buenos Aires or other Argentina destinations. Our staff will be happy to assist with any extension arrangements, including flights.
Your Torres del Paine Trekking Route: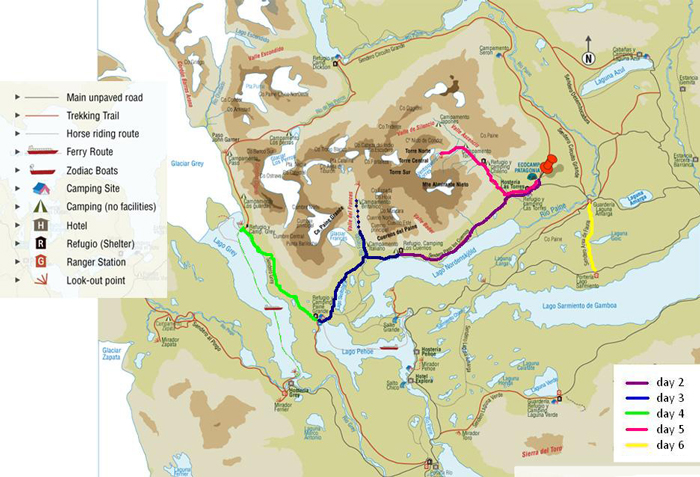 Your Los Glaciares and Mt Fitzroy Trekking Route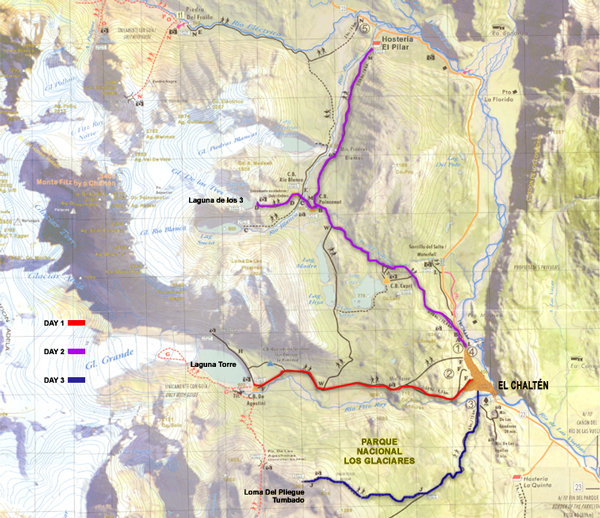 Departures
2016 Departures
Every Sunday
October thru April
Price
Low season
$4060 p/p
Shoulder season
$4295 p/p
High season
$4995
Peak season
$5110