Trekking Torres del Paine, Los Glaciares and Mt Fitzroy | Trip Notes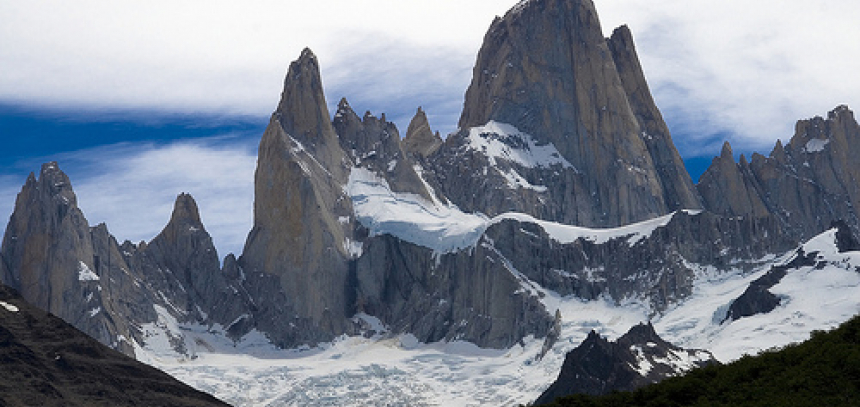 2015-16 Season prices/per person**
Sharing double room
Double
 Upgrade to
Superior Dome
Upgrade to
Suite Dome
Low season: Oct 5-15'15; Apr 18-30'16
$4060
 + $285
+$500
Shoulder season: Oct 16-30'15; Apr 1-17'16
$4295
+ $335
+$585
High season: Nov 1-Dec 13; 21 Jan-31 Mar
$4995
+ $480
+$835
Peak season:  Dec 14-Jan 20
$5110
+ $500
+$875
##Single travelers
 +$900
 
 
##Single supplement provides for transfers and accommodations in Santiago and Argentina portion only and applies to passengers who are traveling alone.  We do not "match-up" single participants for the Santiago  hotel portions. For the Eco-Camp and Refugio stays accommodations will be on a share (same sex) basis.  
Trip Notes:
For bookings made within 40 days prior to the trip departure we can't guarantee space at the refuges. If space isn't available then accommodation will be provided at the refuges camping area consisting in a comfortable tent, including mat, sleeping bag and a polar fleece liner; our team will set and dismantle all this; the camping provides satisfactory bathroom facilities. Meals will be served inside the refuges
Argentina-Los Glaciares & Fitzroy hikes are guided by a local guide from el Chalten. We provide transportation, accommodations, meals as specificed and local guide for this portion of the trip.
Itinerary Modifications.  We reserve the right to change the order of the days in any itinerary under the sole discretion of the trip guide and based on operational considerations. The trip guide can also modified, change or eliminate part of the itinerary based on safety/weather considerations.
Camping on this trip is in our private permanent camp-site, with full amenities on days 2, 5, 6 & 7.  We provide you with large tents (4 person capacity, sleeping 2), comfortable cots, bedding and mattresses. Our kitchen tent has a refrigerator, and the dining tent has tables and comfortable chairs.  We also have portable toilets and showers, a complete first aid kit and radio communications.  A complete list of recommended clothing and equipment will be provided once you are confirmed on the trip.
The stay at Refugio Cuernos on Day 3, and  Refugio Pehoe on Day 4 are in rooms for 4-6 people with shared baths (one each for men & women) & hot water showers. Sleeping bags provided.
This trip is rated moderate, and is recommended for people in good physical condition in the habit of walking long distances and camping outdoors. You will need to carry a day pack with your personal gear (water, camera, rain gear, etc) on all hikes. 
Porters will help us on days 3 and 4 to carry part of you personal belongs from Refugio Pehoe to Refugio Cuernos and then to the Ecocamp Torres. Once you arrive into the Ecocamp on day 2, we will give you a small duffel bag where you will have to pack your clothes and personal belongs needed for the next 2 nights. We will send that small bag with the porters. The bigger duffel bag you brought into Patagonia will be stored at the Ecocamp until you arrive back on day 5.
Weather:  The vast unbroken stretch of ocean to the west and south of the South American continent leaves the Patagonian Andes very exposed to the saturated winds that circle the Antarctic landmass. Also, both the strong marine and the South Patagonic Ice field influence make the weather hard to predict. In spring or early summer fine weather may deteriorate almost without warning, bringing rains and eventually snow. Even in summer (December to march) you should come prepared to find cold- strong winds (up to 130 km/hr) and rainfalls. The summer's average temperature is 11ºC/52ºF (24ºCmax, 2ºC min).
This trip begins in Santiago, Chile, and ends in Calafate, Argentina. Airline tickets are required Santiago-Punta Arenas.  Ticket prices average between $300-$400, and will be confirmed once we have your trip deposit.  Lower prices may be available if using LAN airlines for international flights, or local airlines w/in Chile.  These arrangements can all be made through Latin American Escapes.
Latin American Escapes offers excellent discounted international airfares from most US cities, local airpasses, and complete land packages through-out Latin America.
Minimum number of passengers required to operate this trip is 2 per departure date, maximum is 20, with an average group size of 8-12 passengers.  Guide to passenger ratio is 1:8.
Departures
2016 Departures
Every Sunday
October thru April
Price
Low season
$4060 p/p
Shoulder season
$4295 p/p
High season
$4995
Peak season
$5110